December 30, 2016
Pasta ascuitta is the name given to a whole category of pasta dishes in Italy.  It means "dry pasta," quite literally.  In reality, most of them are not really dry in the full sense of that word.  The category includes all kinds of pasta with almost any imaginable sauce.  Spaghetti and meatballs would be pasta ascuitta to an Italian (though the meatballs would be served as a separate course a discussed previously).  What makes pasta ascuitta "dry" is how it compares to the other category of pasta, "pasta in brodo," or pasta in broth.
In contrast to pasta in brodo, pasta with sauce is dry, or "ascuitta." Remember that in Italy the first course after the antipasto (which literally means before the pasta) is either pasta or soup or rice.  So, pasta in brodo is both a soup and a pasta.  A classic version in our house is tortellini in chicken broth. With appropriate Italian (not Italian-American) restraint it makes a great first course.  There might only be five or six tortellini in each bowl of broth.  It takes the edge off one's hunger without filling one up before whatever comes next.
Growing up in my family, however, pasta ascuitta meant one and only one thing, the way many general terms come to have a specific meaning in a particular context.  Pasta ascuitta, to my family, meant angel hair pasta or spaghettini (not spaghetti), served with an abundant amount of breadcrumbs cooked in olive oil until crispy and flavored with anchovies.  Of everything that appeared on the table at Christmas Eve, pasta ascuitta was, and still is, my favorite.
As children, we called it sawdust spaghetti. I still do, sometimes.  I was chatting with my cousin Donna Meinecke the morning of Christmas Eve this year.  Our families spent most holidays together when we were growing up.  When she asked me what I was cooking, the first thing I said was "sawdust spaghetti."  Enough said!  It was Christmas Eve, after all, and while I decided it was best not to introduce a table-full of unsuspecting guests to a soup of baccala (salted and dried cod) and tomatoes; a second pasta with a tomato sauce and squid tentacles; and stuffed squid, I had to serve pasta ascuitta.
If you were counting, you would have figured out that the first course of our family Christmas Eve dinner had two pastas and one soup.  This, of course, was after a massive antipasto and a large platter of steamed mussels but before the second course of breaded and pan-fried fish fillets, the aforementioned stuffed squid, and, in later years when the "no meat" rule in our family was relaxed, bracciole and homemade sausage.
I truly don't remember what vegetables were served.  I do remember, however, that there was a huge platter of cookies for dessert.

The genius of this dish, made from very humble ingredients, is the crunch of the salty breadcrumbs in contrast to the chew of the pasta. Even if you think you don't like anchovies, give this dish a try. There is something irresistible about the salty, crunchy breadcrumbs packed with umami. If you're still not convinced, try using half the amount of anchovies. I promise you, the next time you make this dish, you'll follow the suggested amount. This may sound like a lot of oil but remember, it's the only "sauce" in the dish. It works out to about 2-3 tablespoons per serving. A food processor renders the job of making the breadcrumbs a breeze. Do not use packaged breadcrumbs. It is essential that they be large and soft, but made from bread that is a couple of days old for the proper texture. It is best to use bread that was baked in a pan rather than free-form as the ratio of soft, inner white crumb to crust will be greater. Many supermarkets carry a hearty artisan-style sliced sandwich bread if you don't have a good Italian bakery nearby and don't want to make your own. You want a dense crumb which this type of bread has. It will work just fine using the food processor method below.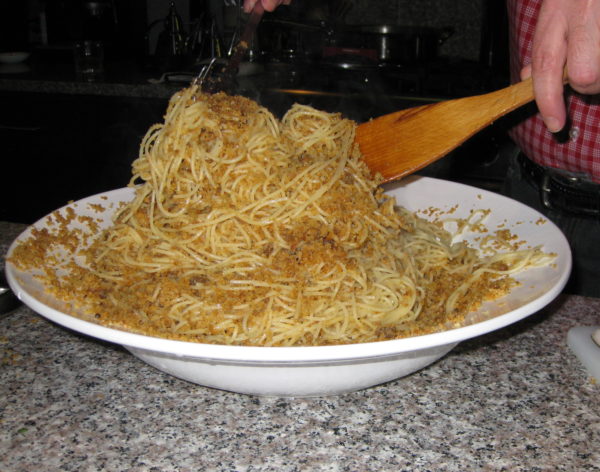 | | |
| --- | --- |
| | |
Put the bread in a paper bag for two days at room temperature. This will allow the bread to become stale, but not hard.

On serving day, make the breadcrumbs from the stale bread in one of two ways. Cut the bread into 1-inch-thick slices.

Cut off the crust from each slice. Cut the slices into one inch cubes.

Process the bread cubes in a food processor to yield coarse (but not chunky) crumbs.

Without a food processor, cut the loaf in quarters and scoop out the center of the loaf. Using your hands, crumble the center of the loaf into coarse crumbs. Then using the teardrop-shaped holes of a grater, grate the white bread that is clinging to the crust.

Measure out and reserve 6 cups of crumbs. Save any additional for another purpose.

Bruise the garlic with the side of a chef's knife.

Heat the olive oil in large, heavy skillet over medium heat. Sauté the garlic (if using) until dark golden, almost brown, then discard. Add bread crumbs to the oil and stir constantly till light golden.

Push the breadcrumbs away from the center of the skillet and add anchovies and their oil. Working quickly so the breadcrumbs don't burn, heat and stir the anchovies, smashing and breaking them into bits. When the anchovies are in small bits, mix them into the crumbs. Season the crumbs with freshly ground black pepper. Continue cooking the breadcrumb-anchovy mixture, stirring constantly, breaking up any remaining bits of anchovy, until the breadcrumbs are crispy. Most of the crumbs will be golden brown but some will be darker. Be careful not to burn the crumbs. There will still be some visible bits of anchovy when the breadcrumbs have gotten crispy.

Remove the skillet from the heat. If not using immediately, stir the anchovy-crumb mixture every few minutes for about 10 minutes so the crumbs on the bottom don't burn from the residual heat. Reserve the anchovy-breadcrumb mixture. Making the crumb mixture a few hours in advance makes the final put-together less stressful.

Cook one pound of angel hair pasta or spaghettini in generously salted water until al dente. I usually use about 1/3 cup salt for six quarts of water. If the crumbs were browned earlier, warm them gently while the pasta cooks.

When the pasta is finished, pour some of the pasta-cooking water into the serving bowl to warm it. Drain the pasta well but do not rinse.

Toss the pasta with the crumbs. If the skillet is large enough, it is best to toss the breadcrumbs and pasta there. It will keep the pasta warmer. Season with a generous amount of black pepper. Taste and adjust salt. It is entirely likely that no additional salt will be needed.

Empty the water from the serving bowl. Dry the bowl, pour in the pasta and serve. It is not traditional to serve cheese with this pasta.
If any pasta is leftover, the breadcrumbs will lose their crispiness but still taste great for a quick lunch (in our house, mostly eaten furtively in secret before someone else nabs it).  However, this pasta makes the foundation for a great frittata.  We won't be covering the making of a frittata for a while but stay tuned.
Copyright © 2016 by VillaSentieri.com. All rights reserved.