February 27, 2017
Earlier this month I wrote about my "crunchy vegetable" phase of cooking back in the 1970's.  One of the dishes I was reacting to was my mother's green beans with tomato sauce and bacon.  Honestly, though, I can't tell you why.  It was, bar none, my favorite vegetable dish growing up.  Why, when I started cooking in my late teens, I thought I could make it better by cooking the beans until they were just crunchy is beyond me.
Chalk it up to youthful indiscretion.
Americans served a lot of mushy vegetables back then, no doubt, but the reaction shouldn't be to turn every vegetable crunchy.  But I was just learning to cook and had a lot to learn, not only about technique, but about understanding the essence of a dish.
The essence of this dish is the silky texture (most definitely not mushy) of the beans cooked for a couple of hours in tomato sauce.  The textural change is accompanied by a flavor change that is unobtainable by quickly cooking the ingredients.
It's actually pretty difficult to turn these beans mushy unless you boil them too long before adding them to the tomato sauce.  The tomato sauce reacts with the beans to somehow inhibit the development of mushiness.  I'm not sure, but it think it might be the acid in the tomatoes.
That first four minute boil is critical, however.  One time, thinking I could eliminate a step, I tried putting the cut up beans in the sauce without parboiling them first.  Mistake!  Four hours later the beans were still not cooked properly!
Green beans cooked in tomato sauce is a classic Italian combination.  The use of bacon clearly signals that this is Italian-American, however.  Italian recipes might use pancetta but not bacon.  Smoked foods are uncommon in traditional Italian cuisine.  The few that appear really stand out.
Pancetta and bacon are made from the same cut, pork belly.  Both are cured but only bacon is smoked.  Although I've made other versions of green beans in tomato sauce that are traditional Italian, rather than Italian-American, I keep coming back to this one as my favorite.

These long-simmered green beans in tomato sauce with bacon are an Italian-American favorite. The long, slow cooking is really essential to achieving the right texture and flavor. Although I've specified the amount of water in cups, when cooking with tomato paste my mother always measured water by the can. This dish would have had five tomato paste cans of water. She didn't quite fill them to the top so each can held about 5 1/2 ounces of water, or a little over three cups total. You may need to add more water, or to boil some away, to get a thick sauce.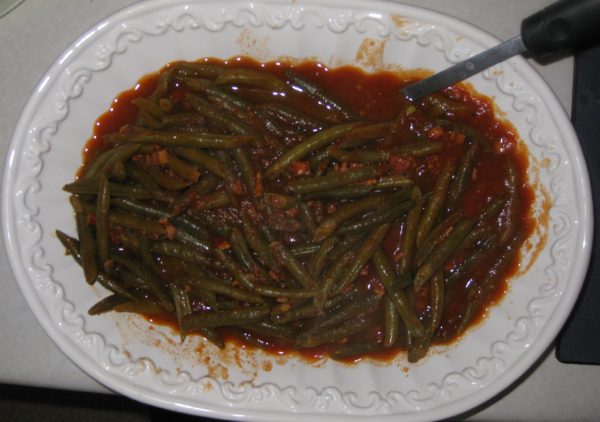 | | |
| --- | --- |
| | |
Cut the bacon into matchstick-sized pieces.

In a heavy-bottomed pot, large enough to ultimately hold the beans, gently sauté the bacon until golden brown.

Add the minced garlic to the bacon and bacon drippings and sauté until fragrant and just beginning to turn golden, about one minute.

Add the tomato paste and sauté until it turns a shade darker and smells sweet.

Add the water, stirring to combine. Cover and bring to a boil.

Reduce to a simmer. Add salt, freshly ground black pepper to taste, oregano and sugar. Simmer, partially covered, for 45-60 minutes, stirring occasionally.

Meanwhile, cut the tips off the beans at a diagonal. Cut the beans into pieces about 2 to 2 ½ inches long, also on the diagonal.

Wash the beans in several changes of cold water. Cover with water and allow the beans to soak for 15 to 20 minutes, to fully plump up with water before cooking.

Bring a large pot of heavily salted water (at least 4 quarts of water and ¼ cup of salt) to a boil.

Drain the beans, add to the boiling water, and return to a boil as quickly as possible.

Boil until the beans are just beginning to get tender, approximately 4 minutes. They will cook much longer in the sauce so be careful not to overcook them at this point.

Drain the beans and add to the tomato sauce, which should have been cooking for 45-60 minutes by this point.

Simmer until the beans are silky, but not mushy. This can take 2 hours, plus or minus. Go by texture, not time. The beans should be silky but still have some body.

Taste once or twice while cooking and adjust salt, pepper and, if you wish, oregano.
You can make the sauce and partially cook the beans in advance. After the beans have been boiled, quickly chill them in a bowl of ice water. Cool the cooked sauce to room temperature.  Drain and add the partially cooked beans to the sauce.  Refrigerate until ready to complete cooking.
Copyright © 2017 by VillaSentieri.com. All rights reserved.