March 13, 2017
I love mead, more so dry mead than sweet mead.  I first tasted mead at the age of 19 when my college roommate, Ray Hugh, and I visited his mother outside of London one summer.  For some reason, I never had it again but the experience stuck with me.  (I know you're wondering how this is going to get around to Limoncello but read on!)
Fast forward to the late 1990's when my husband began making wine at home.  We didn't have a proper wine cellar at the time, though we ultimately built a temperature controlled wine cellar in the basement of the coach house at our estate on Oakdale Avenue in Chicago…right below the gear works that were once used to rotate the horse-drawn carriages on the floor above.
This is what the coach house looked like when we owned the property on Oakdale Avenue.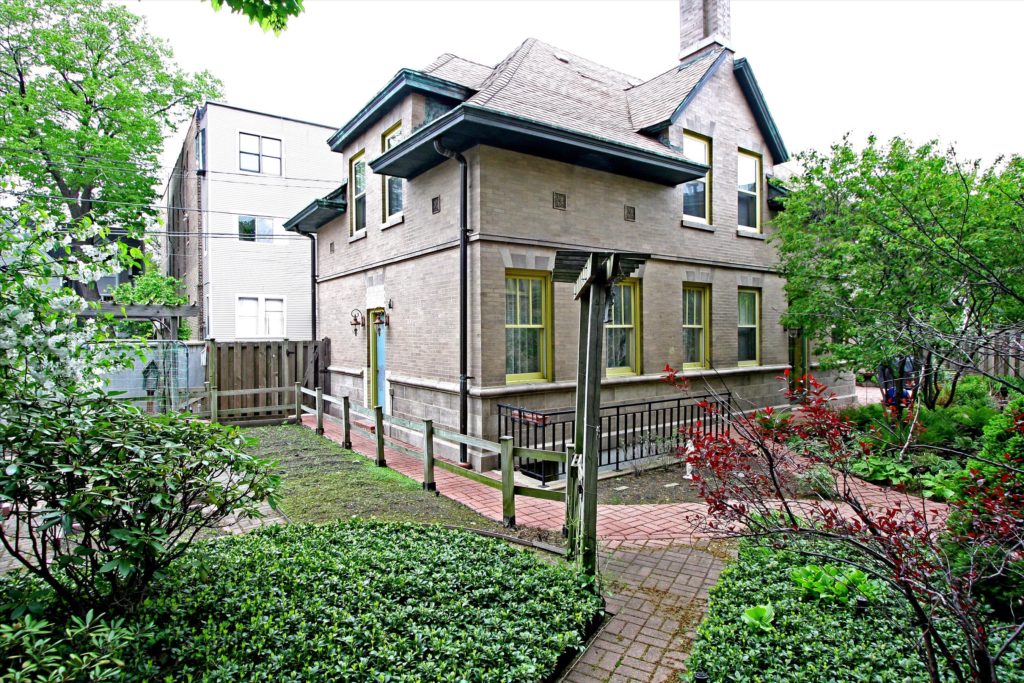 We had a whole row of five gallon carboys of grape juice bubbling away through air locks in our family room.  The wooden floors became stained purple.  Luckily we were planning on remodeling the room and tearing up the floor so it didn't matter much.
The wine was surprisingly good.  We had both red and white.  We made labels for our "Rohkam House" wines that portrayed a picture of the house as it looked in the late 1880's.  You can find that picture in a previous post.
After a few successes with wine, I asked Frank to make mead.  He settled on a recipe he fancied, though it was not entirely a traditional northern European mead.  It contained honey, of course, but the recipe specifically called for orange blossom honey which obviously has no connection to northern Europe.  The recipe also required some freshly squeezed orange juice instead of just water.  I was a bit skeptical about the non-traditional ingredients but…hey…I was finally getting my mead after all these years.
I found a beekeeper in Florida who would sell me five pounds of orange blossom honey from his own bees.  I ordered five pounds of honey.  I got fifty pounds sent overnight delivery!
It turns out that Muriel, the beekeeper, got two orders at the same time.  My order was for five pounds sent by UPS ground.  Someone else ordered 50 pounds sent express.  Muriel got the orders confused and we suddenly were in the business of making ten times as much mead as we had planned.
That also meant we needed ten time the number of oranges we had planned on to get enough juice.  I couldn't bear to let those orange peels go to waste so I took out the recipe for limoncello that I got from relatives in Tuscany on our visit a couple of years earlier and decided to make it with orange zest instead of lemon zest.
I dubbed it arancello, using the Italian word for orange in the same way the Italian word for lemon is used to make the word limoncello.
I ultimately served it to friends and family visiting from Europe.  I explained what I had done to make it.  Not one of them had ever heard of anything like it but it was a hit.
Fast forward a decade or two and arancello started to be imported from Italy (often called orancello or orangecello).  While I can't claim to have invented arancello, I am pretty sure it was not a common product when I got the idea to repurpose the family recipe for limoncello.
Oh, and that mead…it was pretty darn good.  We served it for many dinner parties in place of white wine.  Everyone thought it was wine.  It had that haunting floral quality so like a good Viognier.  Now that we have orange trees outside our door in Palm Springs maybe we can dig up that mead recipe again and make arancello as a buyproduct!

While you will find recipes for Limoncello made with vodka, using higher proof alcohol yields a more consistent extraction of the flavor compounds. The higher the proof, the better. However, 190 proof alcohol is not available everywhere so I've adjusted this recipe to use 151 proof alcohol. The original recipe, which came from family in Tuscany, called for less than half the amount of lemon zest I've used here. Over successive versions for over the last 2 decades, I find I like these proportions best. Lemoncello does not keep indefinitely. It is best to use this within a year. Use the freshest lemons you can find for the most flavorful limoncello.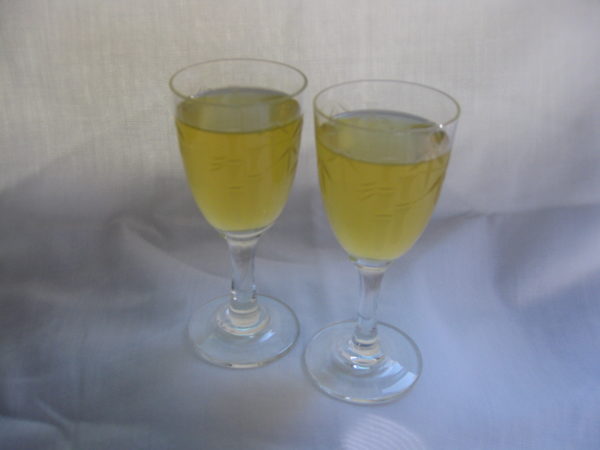 | | |
| --- | --- |
| | |
The starting point: lemons in the tree in Palm Springs.

Using a vegetable peeler, carefully pare zest from lemons without including any of the white pith. Use a peeler that removes the zest in strips, not the zesters that remove little tiny curls.

Combine the zest and alcohol in a large glass jar with a tight-fitting lid. I use a one-gallon jar, though something of approximately three quarts will work just fine.

Put the jar out of direct sunlight in an area that is at comfortable room temperature for seven days. Swirl the contents of the jar daily. The alcohol will not cover the zest so it is important to mix up the contents at least once a day.

On the fifth day, combine the sugar and water in another glass jar or non-reactive container. Stir or swirl several times a day until all the sugar is fully dissolved.

After the zest has macerated for a week in the alcohol, add the sugar syrup.

The limoncello will initially become cloudy as some of the sugar comes out of solution.

Allow the lemon zest to steep in the alcohol-sugar syrup mixture for an additional 3-4 days, swirling once or twice daily.

It will become mostly clear after a few days. Because of the amount of lemon oil in this limoncello, it may remain slightly cloudy.

It is important to not over-extract the lemon zest or the limoncello may become bitter.

Strain the limoncello. Discard the zest. Divide the limoncello into bottles with tight-fitting lids. I like to use 750 ml liquor bottles.

Store for at least one week before using to allow the flavors to mellow.

Limoncello is best served frosty cold, over an ice cube or two. I like to keep a bottle in the freezer. It may get cloudy but just shake it well before using.
Copyright © 2017 by VillaSentieri.com. All rights reserved.