April 26, 2017
Growing up with an ethnically Italian mother and an ethnically Slovak father, we mostly ate Italian food with Slovak food appearing on the table every week or two.  On Sundays we usually went to visit my father's parents and got a bit more Slovak food.
There were some classic American dishes that appeared on our table, too.  But, honestly, not that often.  The only thing my mother made that I didn't like was hamburgers.  Well, that and liver.
But even my mother didn't like liver.  She made it because my father liked it.  There was never the expectation that anyone else would eat it.
When she made liver…and that process involved running from the living room, through the dining room, to the kitchen to turn the liver as it sautéed and then running back to the living room to avoid the smell…she always made something else for the rest of us.  Well, that wasn't so unusual either.  Remember…Southern Italian mother…food is important…everyone needs to eat.  There were nights when she would make one meal for my father, one for my sister, and one for me.  She would eat one of the three.
We always ate dinner together as a family and, despite the comment above, we usually at the same meal.  Sometimes, though, we each got individually catered food.
But back to hamburgers for a moment.  My mother was a great cook.  I know she used really good beef for her hamburgers.  She usually picked out a whole cut and had the butcher grind it.  She never bought ground beef that I recall.  I still follow the basic blueprint of her hamburger recipe today and enjoy it.  So, I can't really tell you why I thought her hamburgers were awful.  But I did.
Soup was a big deal in our house.  My father really liked soup.  Interestingly, I don't remember having Caraway Soup more than a few times while growing up.  I do know, however, that while I was in college I got the recipe from my mother after it appeared on our table one day.  It seemed like a revelation.
It has been a regular on my table ever since.

This is a light, refreshing soup based on a vegetable broth for which the ingredients are almost always on hand. I like serving it as a first course though it works equally well for lunch or as a light supper. Grating the vegetables on the large holes of a box grater was one of my mother's tricks. It makes fast work of prep and the small pieces quickly flavor the broth.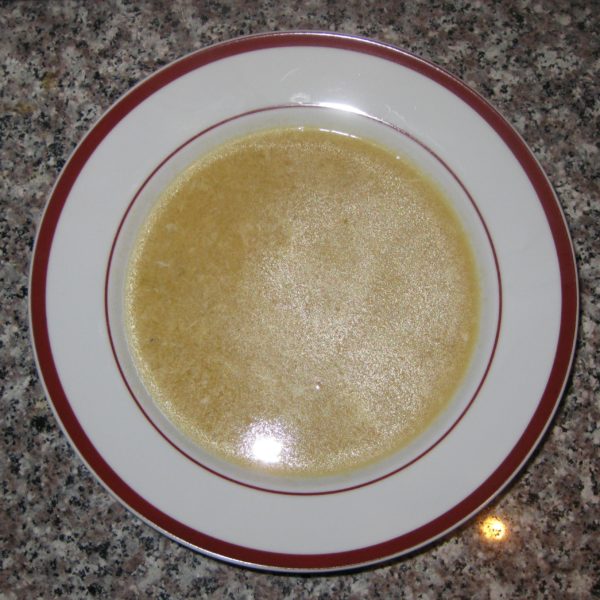 | | |
| --- | --- |
| | |
Shred the carrots on the teardrop holes of a box grater.

Shred the celery on the teardrop holes of a box grater.

Thinly slice half an onion.

Combine carrots, celery, sliced onion, 2 teaspoons of salt, ½ teaspoon of black pepper and 2 quarts of water in a stock pot. Cover. Bring to a boil then reduce heat and simmer for 30 minutes.

Add the caraway seeds. Cover and simmer another 25 minutes.

Strain the broth. Discard the solids.

Return the broth to the stock pot. The soup can be made several hours ahead to this point.

When your ready to finish the soup, return the broth to a bare simmer.

In a heavy-bottomed stock pot large enough to hold the soup, sauté the minced onion in butter until soft but not brown, about 3-4 minutes.

Add the flour to the sautéed onions and cook until lightly colored, about 2 minutes, stirring almost constantly.

Stir the hot broth into the onion-flour mixture a ladleful at a time, stirring well while adding the broth to avoid lumps.

After about one-third of the broth has been added, the remainder can be added all at once.

Bring to a boil and boil gently for 1-2 minutes to thicken. Adjust salt and pepper.

While the soup is boiling, beat the eggs with 1/3 cup of water. Season the eggs with salt.

While constantly whisking the stock, drizzle in the eggs to create shreds of egg.
Copyright © 2017 by VillaSentieri.com. All rights reserved.