October 30, 2017
Italians love to put things in alcohol.
In the short life of this blog, we've already covered limoncello, cherries in brandy, and liquore al lauro.
Of course, it's entirely possible that I love to put things in alcohol. If so, I'm not alone!
Melinda Orlando and I started working together in early 1989 when I moved to Chicago and became the Medical Director (Chief Medical Officer in today's terminology) of Chicago-Read Mental Health Center, at the time a 600-bed psychiatric hospital with approximately 7000 admissions per year.
---
Follow us on Instagram:  click HERE!
---
Melinda and I have worked together ever since. Most recently she and I were business partners in The Mihalik Group, LLC (TMG). Though we sold the company last year, we still do a limited amount of consulting.
In our twenty-odd years at TMG we traveled a lot and ate at a lot of restaurants. We frequently joked that we probably ate more dinners together during that time than either of us did with our spouses.
At Chicago-Read, Melinda and I bonded early-on over a love of good food, especially Italian. Chicago-Read was located adjacent to a large Italian-American community. There were some really good Italian restaurants, butchers, pasta shops, and grocery stores just minutes away. It wasn't a struggle to maintain my weight in those days so eating lunch at one of the nearby restaurants happened often.
This recipe for drunken prunes came from Melinda's Grandmother.
Melinda's grandmother came to the US as a young wife with two children. A third, Melinda's father, was born onboard the ship. After going through Ellis Island she traveled to Chicago by train to meet her husband.
At one point, Melinda's grandmother rented an apartment on Grand Avenue and took in boarders. These were day laborers who were working to save enough to bring their families to this country. They slept on the floor of the apartment and used the toilet in the hall. Baths were taken by all at Hull House down the street. They paid "rent" and got sleeping space, breakfast (coffee and something baked) and dinner (always including pasta).
Melinda's grandmother was frugal, eventually saving enough to buy a building in Elmwood Park, at the end of the trolley line out of the city. The building became home for her and her five children (her husband was out of the picture), a store (selling candy and cigarettes), and a "bar" (providing beer for a nickel and a free bowl of pasta). It had the only telephone booth in the area. Eventually there was a jukebox and it became a popular place on weekends.
Melinda's grandmother served drunken prunes in a shot glass speared on a toothpick, with some of the grappa poured into the glass.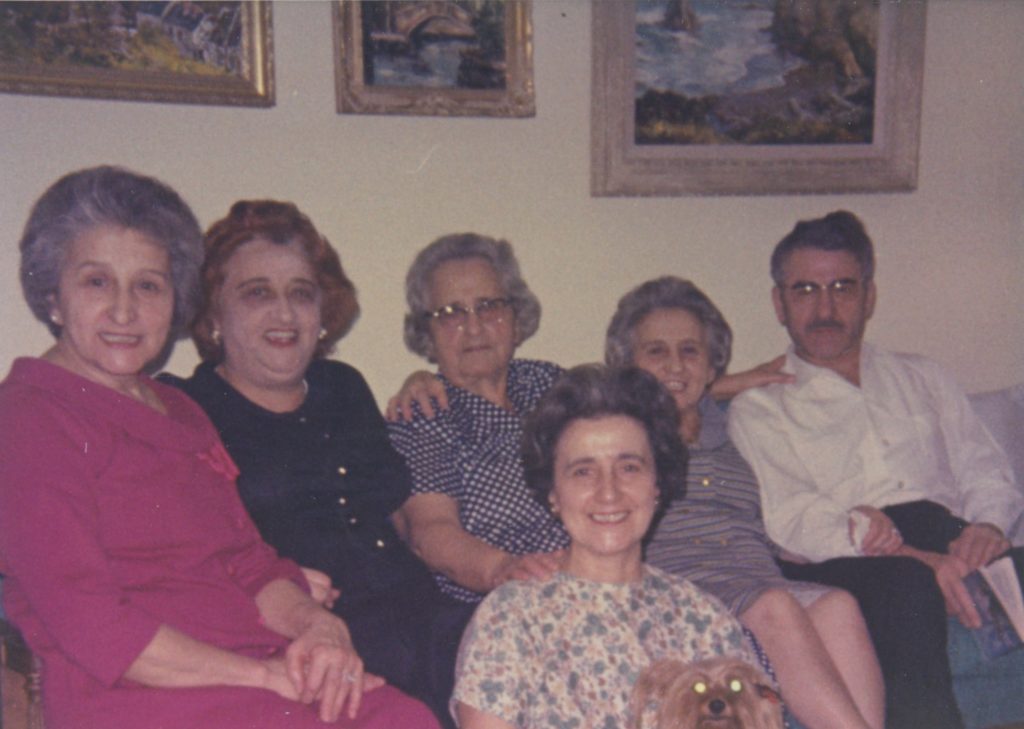 If not served at family events, the prunes generally accompanied a game of canasta among Grandma's "women friends" and were intended to be nibbled on. Never were they eaten in a bite or two.  Seconds were rare, though they did occur.  (I'd love to know what the women said of those who had a second prune but that information is lost to history.)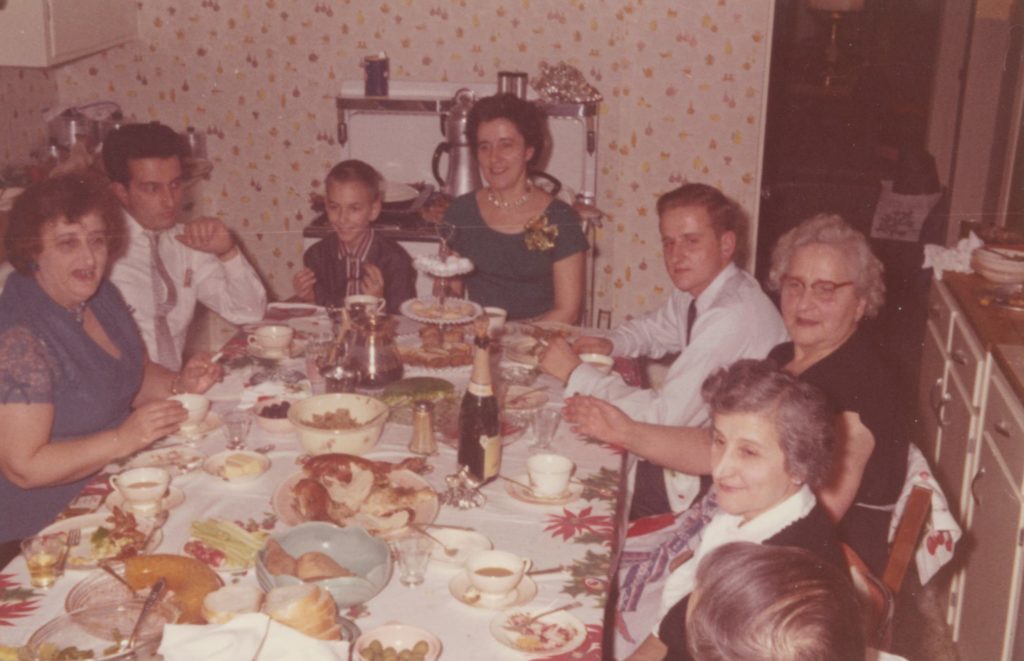 Before canasta, there was always lunch, almost always pasta, and dessert, usually pound cake.  Occasionally the pound cake was used to sop up the grappa in the bottom of the shot glass if it wasn't  consumed outright.  A glass (single, of course) of wine was sipped all afternoon.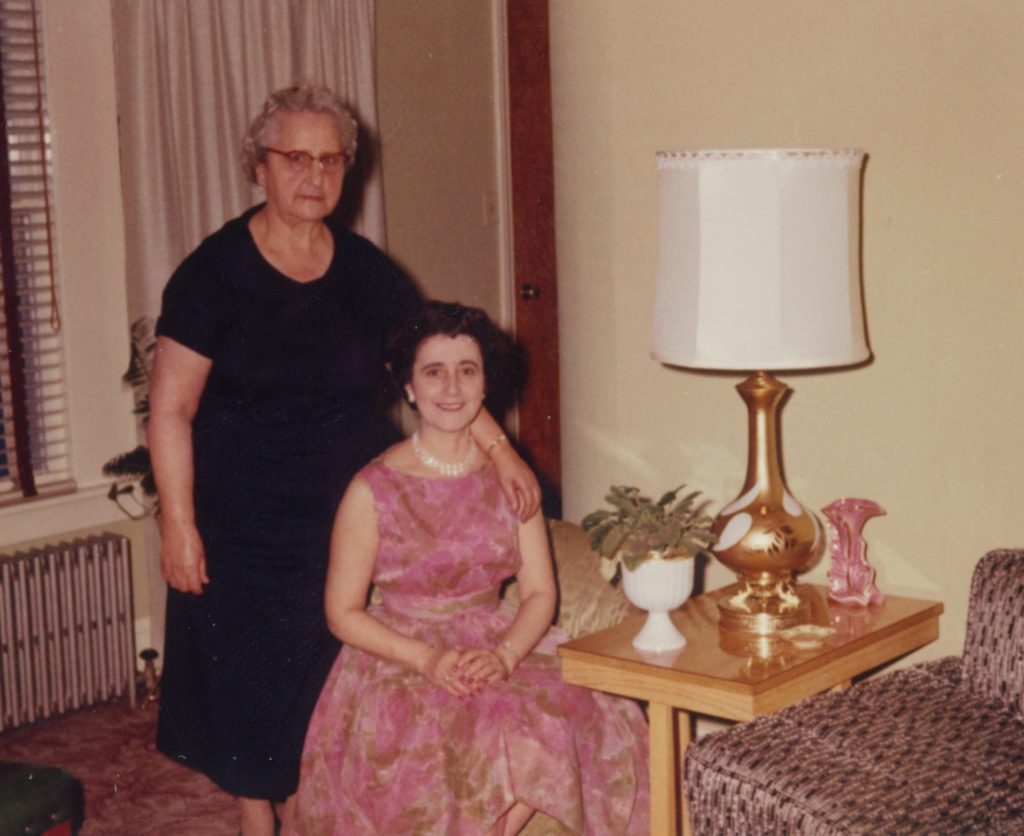 Drunken prunes were only served in the winter, never in the summer. As to what took their place for those summer canasta games, we'll just need to wait for the next installment from Melinda!
---
Follow us
---
Click HERE to join our mailing list and you'll never miss a recipe again!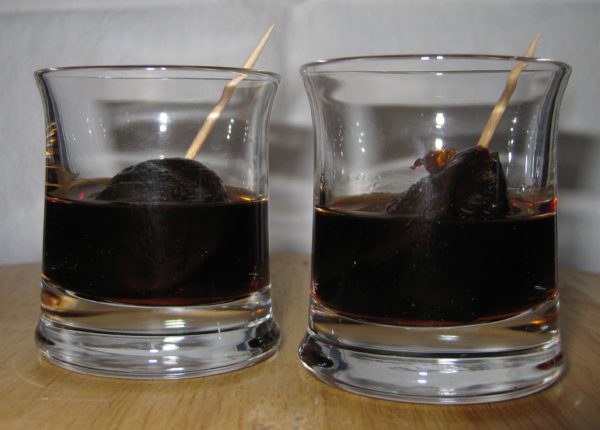 | | |
| --- | --- |
| | |
Place prunes in a one quart glass jar.

Rotate the jar several times daily until the sugar dissolves.

Store the prunes in a cool spot out of direct sunlight.

After one month taste and add additional sugar to taste.

Allow the prunes to age for at least four months total before serving.

Serve the prunes individually in shot glasses with a toothpick. Pour some of the grappa over the prunes.

Nibble on the prunes holding them with the toothpick and sip the prune-infused grappa, preferably while playing canasta.
Copyright © 2017 by VillaSentieri.com. All rights reserved.