September 22, 2017
Those of you who haven't spent time in New Mexico may not know that chile (definitely spelled with an "e") has cult status in the state.
New Mexican food wouldn't be the same without "red" or "green." Chile, that is. Those are the standard sauces used in New Mexican cuisine.
When ordering most dishes in a New Mexican restaurant in Santa Fe, the first question from the server, if the customer hasn't specified, is "Red or Green or Christmas?"
Just 70 miles away in Taos, the question is "Red or Green or Caribe?"
It's not that you can't get Christmas in Taos, which as you might have guessed is half red chile sauce and half green chile sauce, it's that never, ever is Caribe an option in Santa Fe. It just isn't. I believe this speaks to the development of related, but different, foodways in the historically isolated towns and villages of New Mexico.
The most famous of all New Mexico chile is Hatch. There are about six varieties of chile grown in Hatch but, if they're grown there, they can all be labeled as Hatch Chile. The tiny village of Chimayó, just under 30 miles from Santa Fe in northern New Mexico, grows good chile, too.
When I buy roasted green chile at the Santa Fe Farmers Market, I usually head for the vendor selling chile from Chimayó. That's exactly what I did last week to make a batch of Green Chile for this blog post (honestly, we don't add the word "sauce" to the end as the context indicates whether one is talking about the sauce or the fruit. And, yes, chile is a fruit!). Chimayó has a multi-hundred year history of growing heirloom chile and I feel good supporting that history, if even in a very small way.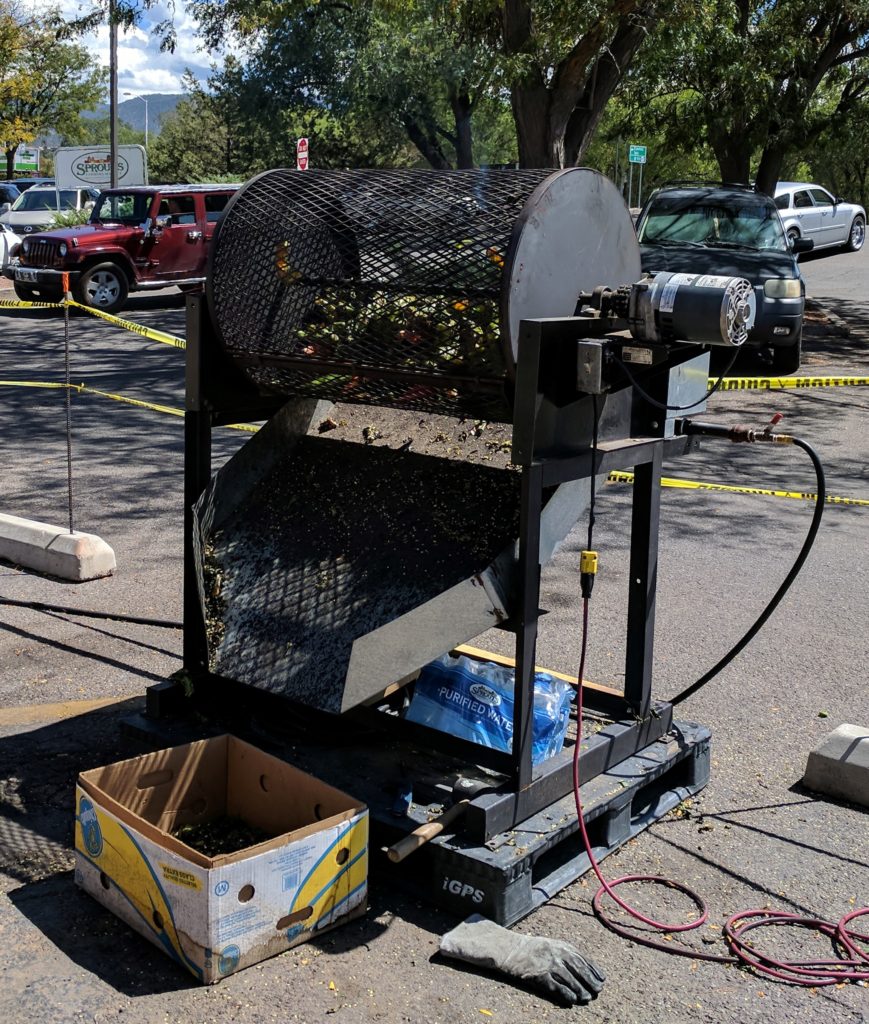 I served that chile during a dinner party for a group of close friends. Among the ten of us, only one was born and raised in New Mexico, Pat Assimakis (aka Pat Paris if you're a maître d' and she's ever made a reservation at your restaurant). I gave Pat a taste of my green chile, she thought for a second and said, "Chimayó?" She nailed it! It's got a slightly different taste from Hatch chile.
New Mexicans have strong opinions about their chile, be it red or green. The usual divide is between those who put almost nothing but chile in their chile (see, you knew the first meant the fruit and the second meant the sauce, right?) except for a bit of onion and/or garlic and those who add herbs (like oregano) and spices (like cumin). I am firmly in the former camp. Onion and garlic help to round out the flavor but, to my taste, herbs and spices detract from the pure chile goodness.
The other divide is degree of heat. Back to the restaurant scenario above, a frequent question from the customer after the server says "Red or Green?" is "Which is hotter?" Restaurants stake out their territory, not only in how they make their chile, but in terms of which is hotter.
Since I'm a bit of a chile-head, given a choice between the medium-hot and the hot Chimayó chile at the Farmers Market, I opted for the hot. So, I was more than a little concerned when Doug Howe, one of the other friends at our dinner, and the first to ladle some green chile onto his plate, took three large spoonsful. Before I could warn him, he took a bite and was in agony. I relieved him of his green chile, putting it on my plate, instead. Pat and I sure enjoyed the chile, Doug not so much. As for the other seven diners, I'm not sure.
In case you missed it, here is my recipe for Red Chile.
---
Follow us
---
Click HERE to join our mailing list and you'll never miss a recipe again!

This is classic New Mexican Green Chile. There are just a few aromatics and no herbs and spices to muddy the flavor. Removing the skin and seeds can be a chore as they want to stick to your fingers. Dipping the chile and your fingers in water makes the task a breeze however, you want to use that water as part of the sauce because all of the tasty liquid that collects inside the chile as it roasts would be lost otherwise.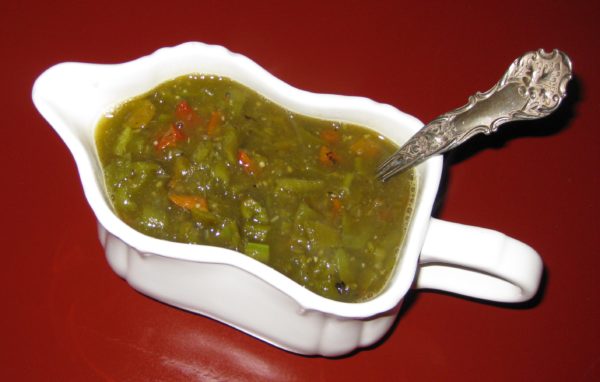 | | |
| --- | --- |
| | |
Roasted green chile ready to be cleaned.

Put two cups of water in a small bowl.

Holding the chile over a bowl to catch any juice, use your fingers to remove the skin of the roasted chile. Most of the skin should slide off easily. You may need to work on a few bits here and there. Remove as much skin as possible but a few bits of stubbornly sticking skin aren't a problem.

Shake whatever skin you can from your fingers (it has a tendency to cling desperately to your fingers) then dip your fingers and the chile in the bowl of water to remove the clinging skin.

Still holding the chile over a bowl, remove the stem end. You can usually do this by pinching the top of the chile but a pair of kitchen shears works well, too.

Discard the stem end and any seeds that cling to it.

Split the chile in half lengthwise. Again, this is pretty easy to do with a fingernail.

Dip the chile into the bowl of water and scrape away the seeds.

Put the cleaned chile into a clean bowl and repeat the process with the remaining chile.

Cut the chile into long strips.

Cut the chile crosswise into small squares

Add any liquid that has collected in the bottom of the bowl from the chopped chile to the bowl of water.

Strain out seeds and bits of flesh from the water using a three step process. Strain the water through a large sieve.

Strain the liquid through a fine, small sieve.

Strain the liquid through several layers of cheesecloth or a paper filter.

Combine ½ cup of chopped chile, onion, garlic, strained water, and salt in a saucepan. Bring the mixture to a boil and simmer for 20 minutes.

Using an immersion blender or a regular blender puree the chile mixture. This will help to thicken the chile sauce without using a thickening agent.

Add the remaining diced chile and two cups of water to the puree and simmer until the chile is soft to the bite, but not mushy, approximately 15-20 minutes, adjusting salt approximately 10 minutes into the simmer. If you used a regular blender in the previous step, use the water to rinse out the blender jar before adding it to the pot.

The green chile can be refrigerated or frozen. It will become softer if frozen so best to cook it for a shorter time if it is going to be frozen.
Copyright © 2017 by VillaSentieri.com. All rights reserved.