June 12, 2017
I am writing this sitting on a beach in Akumal, Mexico about an hour south of Cancun by car.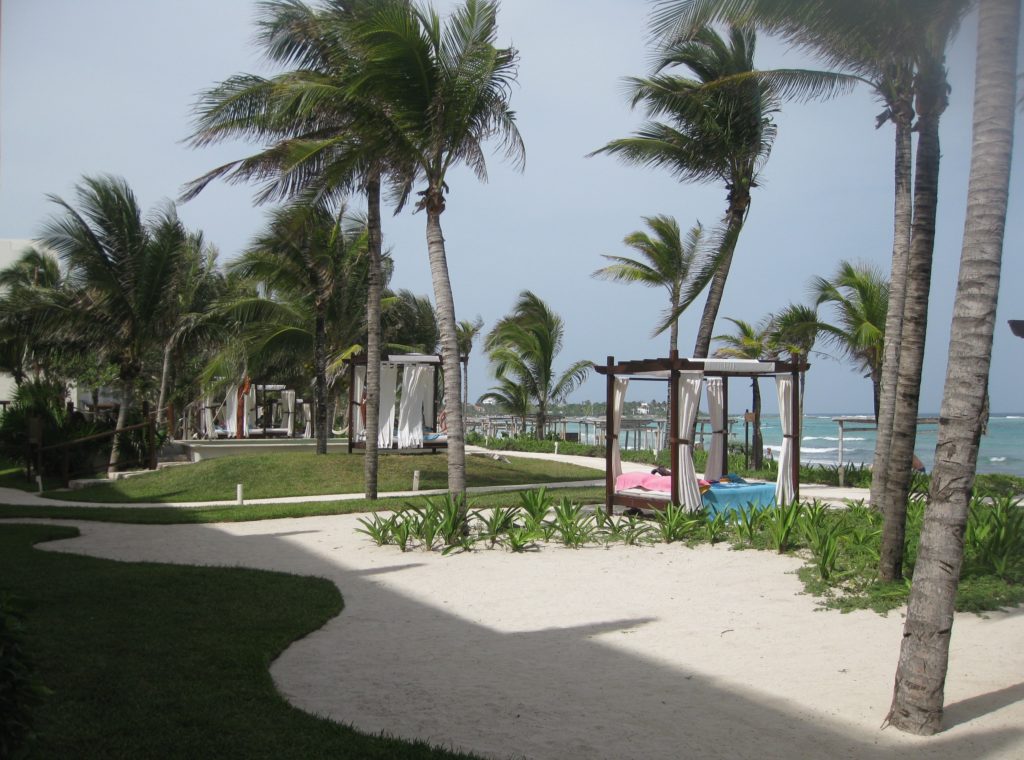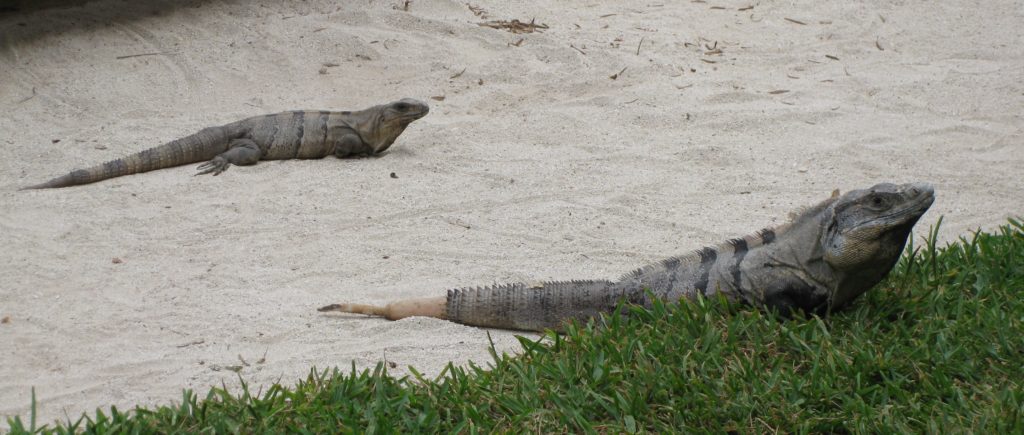 Just a few days ago, I was at home in Santa Fe where the weather was just beginning to turn spring-like.  The week before that I was in Hawaii.

By the time you'll be reading this, I'll be in Palm Springs, where, even today, the temperature is hitting 100°F!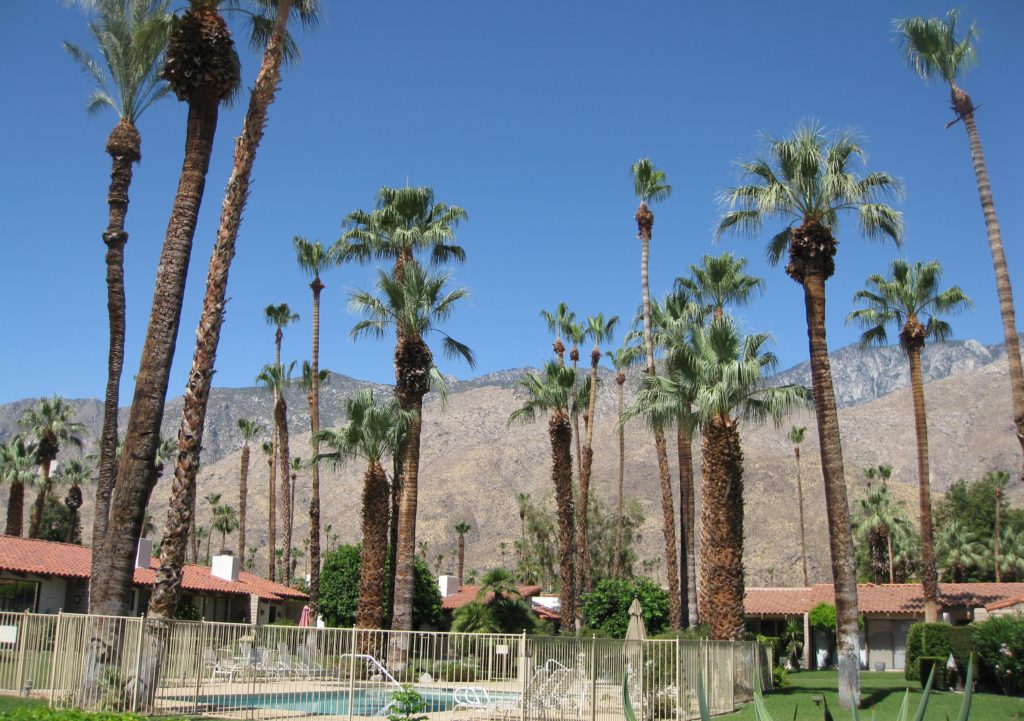 Needless to say, my sense of seasonality is out of whack at this point.
No matter the temperature or the weather, asparagus says spring!
Just a few days ago, I was eating grilled asparagus in Santa Fe.  Days before that I made an asparagus frittata, before that I cooked the asparagus that is featured in this post.
Asparagus isn't something I remember much of before college and usually it was the mushy white stuff out of a can.  White asparagus can certainly be a delicacy but when it comes out of a can that's an impossibility as far as I'm concerned.
College was a time of incredible culinary growth for me.  Growing up I ate wonderful food as my mother was a great cook.  Mostly, though, it was Italian, Slovak, and the American dishes that every kid in the United States grows up eating.
I didn't learn to cook until freshman year in college.  I was lucky enough to live in a college house at the University of Pennsylvania that was housed on two floors of an otherwise upper class dormitory made up of apartments with kitchens.  The typical freshman dorms either had no kitchens whatsoever or had the most rudimentary cooking facilities shared by large numbers of students.  Since I had a kitchen, I only took out the minimum required meal contract: 10 meals per week.  Usually this meant I ate lunch and dinner in one of the dining halls Monday through Friday.  On weekends I cooked…and baked!
I called home every Sunday from the day I went away to college.  Occasionally there was a lapse, like the time when I was 31 and hadn't called home in a couple weeks.  The first words out of my mother's mouth when she heard me on the other end of the line were, "I was just about to put your picture on a milk carton."  Point made!  [You may or may not know that "back then" the pictures of missing children were put on milk cartons in the hope that someone would recognize them and call the authorities.]
Besides just catching up on our lives, I got advice.  My father gave me advice on how to handle alcohol, what to do if I had too much (don't lie down and don't close your eyes, for example), sex, and other topics.
My mother walked me through the steps of how to cook whatever it was I planned on making for dinner that evening.  By the end of freshman year, I was a credible cook.
My gastronomic circle was not very big, however.  Early my freshman year the resident advisors, Dennis and Martha Law from Hong Kong, took a group of us to dinner in Chinatown.  It was exciting, having grown up in a town without a Chinese restaurant.  The tastes, however, were so…well…foreign that I didn't like much of what was served.  I tasted everything but rarely had more than one bite till something landed on my plate that struck me the right way.  The serving platter made it down the table past two or three other people till Dennis saw me eating.  He commandeered the plate and put it in front of me to be sure I had enough to eat.
By the end of the year I was not only eating, and loving, Chinese food, I had developed a rudimentary understanding of the regional differences and learned the basics of Chinese cooking from Martha.
After my taste buds got over the shock of Chinese food, I started exploring other cuisines.  A favorite became Indian food at Maharaja just a few blocks from my dorm.  It turns out the restaurant was owned by the aunt of someone I now work with!  I believe it was the first Indian restaurant in Philadelphia.
Sophomore year I was not in the college house but had one roommate in a similar upper class dorm with a kitchen.  Meal contracts were only required of freshmen and I saw no point in eating in the dining hall.  The arrangement I struck with my roommate was that I would cook and he would clean up.  It turns out he would eat, and like, most anything so I was free to explore and experiment.
That set the stage for my junior year when I was admitted to another college house, the International Residence Project.  Half of the students were from the USA and half from anywhere else in the world.
My roommate, and best friend for many years, Ray Hugh, hailed from Guyana.  Valrie Tracey from Jamaica became the third member of a triumvirate that was pretty much inseparable for the rest of college.
Two married couples were our resident advisors, Ambrose and Najma Davis, and Reginald and Nanacy Rajapakese.  Ambrose was from Jamaica, Najma from Bangladesh, and Reggie and Nanacy from Sri Lanka.
Nanacy taught me how to make Sri Lankan food and I'm almost as comfortable making that as I am Italian.  I remained close friends with Nanacy and Reggie, even making several trips to Sri Lanka with Nanacy in the last few years, after Reggie's death.
Ray and I have reconnected on Facebook which is rekindling many memories of the trips I made to Guyana and my experiences in learning to make Guyanese and Chinese food from Ray and his mother.  Ray's grandparents on both sides emigrated from China to Guyana in the 1800's.
Ray and I packed an incredible amount of cooking power into a tiny dormitory kitchen.  Without enough cabinet space to store ingredients, we had stacks and stacks of plastic milk delivery crates packed with an unimaginable assortment of ingredients from international food markets.
Our apartment became known as the place for midnight snacks and folks always came knocking on the door around then to see what we'd whipped up to nibble on.
That was the year I discovered that my stovetop Corning percolator made a serviceable stand-in for an asparagus steamer.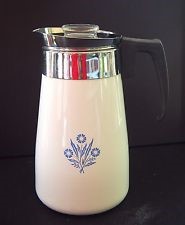 ---
Click HERE to join our mailing list and you'll never miss a recipe again!

Asparagus is best cooked in an asparagus steamer. This small-diameter, tall pot allows the bottom of the asparagus spears to boil in the water while the tender tips cook by steaming. When I was a college student and didn't have an asparagus steamer I used my stovetop Corning Ware percolator. If you don't have a steamer, or a reasonable substitute, I find it preferable to cook the asparagus in a microwave oven rather than to boil them. After rinsing off the asparagus, put the spears and whatever water clings to them in a microwave-safe dish with a cover. Cook in 1-2 minute increments, moving the spears around after each bout of zapping, until cooked but still a little "toothy" (and certainly not mushy).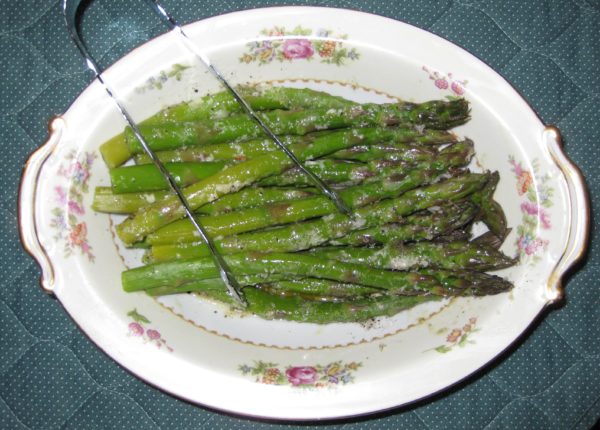 | | |
| --- | --- |
| | |
Trim the tough ends off the asparagus. The "Notes" section below contains a link to a blog post describing how to do this.

Crush the garlic with the side of a chef's knife.

Heat the olive oil in a small sauté pan over low heat. Add the garlic and sauté slowly until brown, pressing down on the garlic occasionally.

Discard the garlic. Reserve the oil.

Cook the asparagus until toothy, neither crunchy nor mushy. If you do this in an asparagus steamer, put about two inches of water in the bottom and bring to a boil. Lower in the basket with the asparagus. It will take 5-10 minutes, depending on the asparagus and your elevation, to cook the asparagus properly.

Put the cooked asparagus in a warmed serving bowl.

Add the garlic-infused olive oil and mix.

Add the Parmigiano Reggiano cheese and the salt and freshly ground black pepper to taste. Mix well.

Drizzle with lemon juice and serve.
You can find videos of prepping asparagus here.
Copyright © 2017 by VillaSentieri.com. All rights reserved.