May 24, 2017
Soup!
If my mother said she was making "soup" without any qualifiers, it meant her beef noodle soup.
She would cook a good-sized piece of beef in her soup pot along with large pieces of carrot, celery and potato till the meat was falling apart.
She would cook thin egg noodles separately.
To serve the soup, everyone would get a bowl of broth with pieces of carrot, celery and potato.  The large piece of beef would be in its own serving bowl and the noodles in another.
At the table, everyone added beef (shredding it with a serving fork) and noodles to their bowl of broth for the ultimate customization.
I haven't had soup this way since my mother died.  I actually don't ever remember being served soup in the same manner by anyone else, anywhere, ever.  If you've ever heard of, or had, soup being served this way, I'd really like to hear about it.
The other soup my mother made frequently was what is sometimes called "Italian Wedding Soup."  It is a rich chicken broth with pieces of chicken, small meatballs, carrots, celery, pasta (typically, acini de pepe), and escarole.
Occasionally my mother would make Slovak Mushroom Soup, with dried mushrooms and potatoes, or Potato Soup with potatoes, milk and onions.  More often, however, we'd get these when visiting my grandparents.  Early on, my grandmother would make soup, but when she got older, Aunt Ann or Aunt Mary would make it and bring it to my grandparents' house.
On a Sunday, when my father, his six brothers, and all of their spouses and children would visit my grandparents, a lot of soup could be consumed.  Mind you, there was no guarantee that there would be soup, but if there was, it needed to be an industrial quantity.
In the winter, my grandmother would keep the soup in a big pot in the root cellar in the basement.  It was the same root cellar where she would make sour cabbage but that was before I was born.  I know because my father and all of my uncles never tired of talking about my grandmother's sour cabbage soup, or kissel.  They bemoaned the fact that nobody made it any longer.  I don't have her recipe and while I can find recipes for soups that sound similar, none of them sounds exactly like the soup my father described.
Today's soup, however, is not one that I grew up eating.  As I mentioned in an earlier post, my mother thought the carcass of a roasted turkey wasn't intended to be reused.  I first had turkey noodle soup, made with roasted turkey leftovers, when I was in college.  The soup was made by Mary Lou d'Aquili, the wife of my college advisor and, many years later, the person with whom I went into psychiatric practice, Eugene d'Aquili.
Ever since then, I've turned the bones of most roasts into broth.
We have an array of fresh herbs year round thanks to the greenhouse.  I have totally given up dried bay leaves in favor of fresh ones.  They're really easy to grow and the taste is incredible.  California bay leaves are stronger than Mediterranean bay leaves so if the balance of flavors in a dish is critical, and you're using the former, opt for about half the amount called for in the recipe.  For most dishes, it's not a critical distinction, however, and you can just substitute California for Mediterranean bay leaves.
Here's a picture of our Bay Laurel plant, pruned down and ready to start its seasonal growth spurt.  In the fall I'll harvest the leaves to make an Italian Bay Laurel Liqueur, Liquore al Lauro or Liquore Alloro.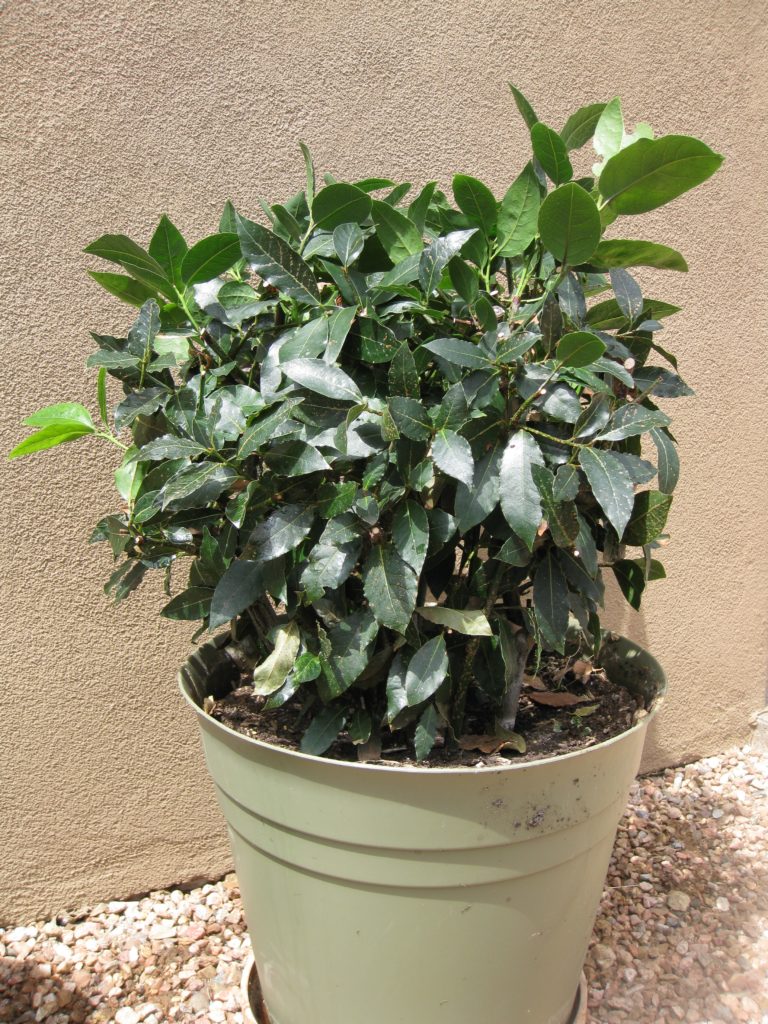 The following recipe for Turkey Noodle Soup starts with the Roasted Turkey Broth I posted a few weeks ago.

Save the bones, skin and shreds of meat from a roast turkey to make broth for soup. You can freeze the bones and make the broth later. You can also make the broth and freeze for future use. What you don't want to do is to freeze the turkey noodle soup. I prefer not to freeze the soup, as the vegetables become too soft. If you must, however, freeze it before adding the noodles and peas. I keep a container of Parmesan cheese rinds in the freezer so that I always have them available to add to soup or other dishes to amplify the savoriness.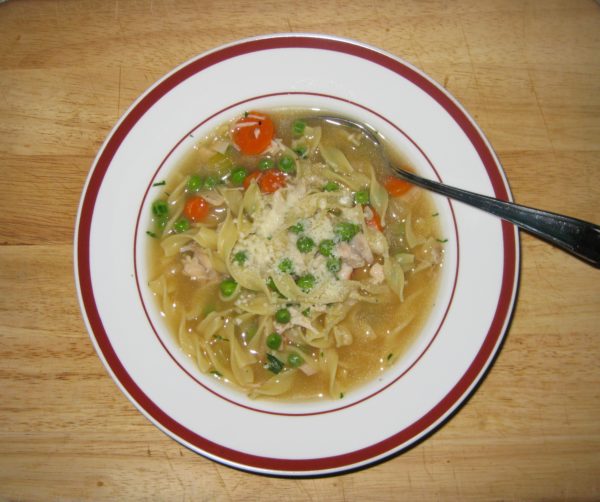 | | |
| --- | --- |
| | |
Bring the broth to a boil.

Meanwhile, slice the carrots.

Dig a Parmesan cheese rind out of your freezer.

To the broth, add sliced celery, carrots, onions, minced garlic, bay leaf, marjoram, cheese rind, and salt and pepper to taste.

Return to a low boil and cook, partially covered for 30 minutes.

Taste and adjust seasoning.

Add cooked turkey and tomato paste. Cook at a low boil for another 15 minutes.

Taste and adjust seasoning to your preference then add an additional ½ teaspoon of salt. (Remember, you're about to add unseasoned peas and noodles.)

Add the noodles. Bring to a boil.

Add the peas. Boil gently till noodles are done.

When noodles are cooked, taste and adjust seasoning. Stir in chopped parsley.

Pass grated Parmigiano Reggiano or Pecorino Romano cheese at the table.
Here is the recipe for Roasted Turkey Broth.  You should have 3 quarts of broth.
Copyright © 2017 by VillaSentieri.com. All rights reserved.