August 7, 2017
It's Saturday morning, August 5th and I'm sitting on an airplane writing this post.  I'm bound for Baltimore to visit the younger of my two nephews and his wife and their son.  I have meetings in Washington, DC on Monday and Tuesday so I'm taking this opportunity to visit.
The family members and relatives with whom I am closest are scattered around and I don't see enough of any of them.
What does all of this have to do with green beans, you might ask?
Everything.
And nothing.
Food is my connector. It connects me to people and places. It evokes memories. It helps to create new ones. It's a set of shared experiences.
I can't make my mother's long-simmered tomato sauce without evoking a slew of memories. My strongest olfactory memory from childhood is being gently awakened by the smell of garlic sizzling in olive oil on Sunday morning as my mother began to make tomato sauce for that day's dinner. This is the sauce I am making on Sunday at my nephew's house.
Most recipes that enter my repertory do so because of their connection with people and places. They document my personal history in edible form and cement memories of good times shared with family and friends. Many are family recipes, mine or those of people I know. Some are not, like the Italian Walnut Crostata I created to replicate one I had sitting at a little bar in Venice drinking grappa with my father-in-law in 1996.
That crostata has family connections of a sort. One of the favorite non-Italian desserts in our family is nut roll, brimming with ground sweetened walnuts and encased in just enough lightly sweet yeasted dough to hold it together as it is rolled and baked. While nut roll is more of a Central and Eastern European dessert, it was common in Johnstown, Pennsylvania where I grew up with people from a wide range of ethnic backgrounds.
My Aunt Margie's nut roll filling is flavored with citrus, hewing toward the Italian, while my mother's has milk and honey, pointing more towards Eastern Europe. I suspect, though cannot prove, that my Aunt Margie's filling is more like her mother's (my Italian grandmother) and my mother's is more like my father's mother's (my Slovak grandmother).
Nut roll is a pastry that I truly miss but it is challenging to make and I have never tackled it despite having my mother's and my Aunt Margie's recipes. Except for the one time my cousin, Donna, made it and sent me some and the two times that Michael Alcenius sent me some he made using my Aunt Margie's recipe, I have been in a nut roll blackout since Aunt Margie died.
The walnut crostata was a revelation. There, in an easy-to-make Italian sweet pastry crust (pasta frolla), was a filling of sweetened, ground walnuts. It wasn't nut roll but it certainly evoked all the right taste sensations.
I used my husband's Great Aunt Fidalma's recipe for pasta frolla and Aunt Margie's recipe for nut roll filling, to create a dessert that is both reminiscent of that night shooting grappa with my father-in-law in Venice and that preserves recipes from my family and my husband's family.
Now that I've gotten my mouth (and maybe yours) watering for walnut crostata, we're going to make green beans! I hope, though, that you have a better understanding for the reason this blog exists: to document and preserve traditional recipes along with some sort of a personal story or vignette.
Having just said that, I can't tell you precisely where this recipe came from but it's been in my repertory for decades. It is the essence of simplicity, a hallmark of much of Italian home cooking. It also lends itself to being made almost exclusively in advance, making it a perfect dish for a last-minute put-together when entertaining or making a more complicated main course.
---
Follow us
---
Click HERE to join our mailing list and you'll never miss a recipe again!

The beans can be cooked in advance and shocked in ice water to stop cooking. The garlic can be sautéed in olive oil in advance, too. Just before serving, heat the oil and toss the beans briefly to warm them. In a serving bowl toss the beans with Parmesan cheese, salt and pepper. This dish can easily be doubled or tripled. Adjust the amount of Parmesan cheese and garlic to your taste. The olive oil is an integral part of the "sauce" so be generous.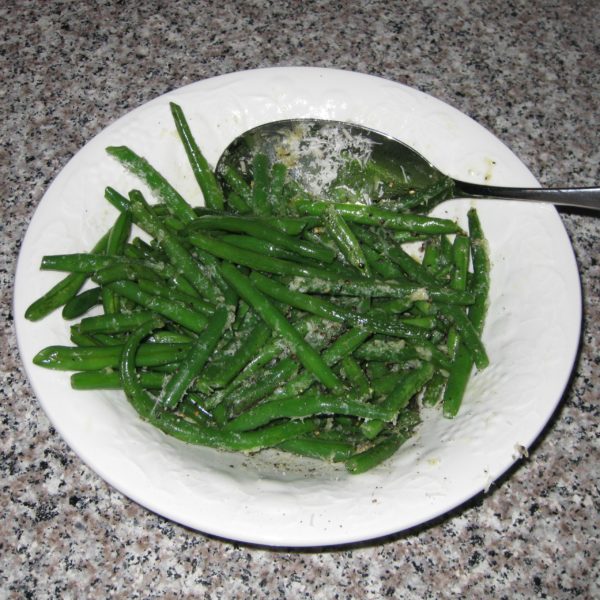 | | |
| --- | --- |
| | |
Wash the beans and cut off the ends. I like to cut the ends at an angle for a better appearance.

Bring a large pot of salted water to a boil.

Meanwhile, bruise the garlic with the side of a chef's knife.

Add the olive oil and garlic to a skillet, large enough to hold the beans, and heat on medium-low heat until the garlic begins to sizzle.

Sauté, over low to medium-low heat until the garlic is golden.

Remove and discard the garlic.

Remove the oil from the heat.

When the water comes to a boil, add the beans and boil until crisp-tender. This will take just a few minutes depending on the beans and your elevation. The beans should not be crunchy but they should have a distinct "toothiness" and almost squeak as you bite into them.

If preparing the beans in advance, shock in ice water.

Add the drained beans to the garlic-flavored olive oil. Heat gently if the beans are cold.

Off the heat, mix in the parmesan cheese, salt to taste, and a generous amount of freshly ground black pepper.

Toss well and serve immediately.
Copyright © 2017 by VillaSentieri.com. All rights reserved.