December 26, 2017
I didn't grow up eating crostoli.
That doesn't mean we didn't have our own version of fried dough.
Unlike crostoli, which are thin and crispy and leavened with baking powder, I grew up eating ovals of fried yeasted bread dough sprinkled with granulated sugar.
Frying bread dough and sprinkling it with granulated sugar is a common among Southern Italians. My mother had a name for it that I've never heard anywhere, it sounded something like "pitla." I started doing some research. The word "pitta" is still used in Calabria, where my mother's family originated, for various types of dough-based foods, including some that are quite flat. The word "pitta," which I believe derives from the Greek word "pita," became the word "pizza" in standard Italian. I'm guessing that "pitla" is a dialectical variation of "pitta."
---
Click HERE to join our mailing list and you'll never miss a recipe again!
---
One of the positive outcomes of doing research on Italian fried dough products is that I came across a wonderful Wikipedia page on fried dough from around the world.  Check it out here.
Crostoli (or crostui in the Friuli-Venezia-Giulia region of Italy where my mother-in-law was born) are traditionally served at Christmastime. My mother-in-law says that they would sometimes have them at other times of the year when they "wanted something sweet" that was simple to make.

Not growing up eating crostoli, I asked my husband to tell me what he remembered.
I got two sentences:
"We always had them at Christmas."
"They're not my favorite."
There you have it, the entirety of the crostoli story in 10 words.
I even waited a couple of days and asked him again if he remembered anything else about crostoli. "Nope" was the answer.
Now we're up to 11 words.
---
Follow us on your social media platform of choice
---
That might have been the end had it not been for Christmas Eve. The morning of Christmas Eve, after I mixed dough for panettone, my mother-in-law and I made up a batch of crostoli to take to Christmas Eve dinner at the home of our friends Rich DePippo and Doug Howe.
Rich's grandfather was from Domegge di Cadore in the Veneto region of Italy, just next door to Friuli-Venezia-Giulia where my mother-in-law was born. In fact, Domegge is about 100 kilometers from Treppo Grande, my mother-in-law's home town.
As it turns out, Rich and his mother, visiting for Christmas, also made crostoli the morning of Christmas Eve.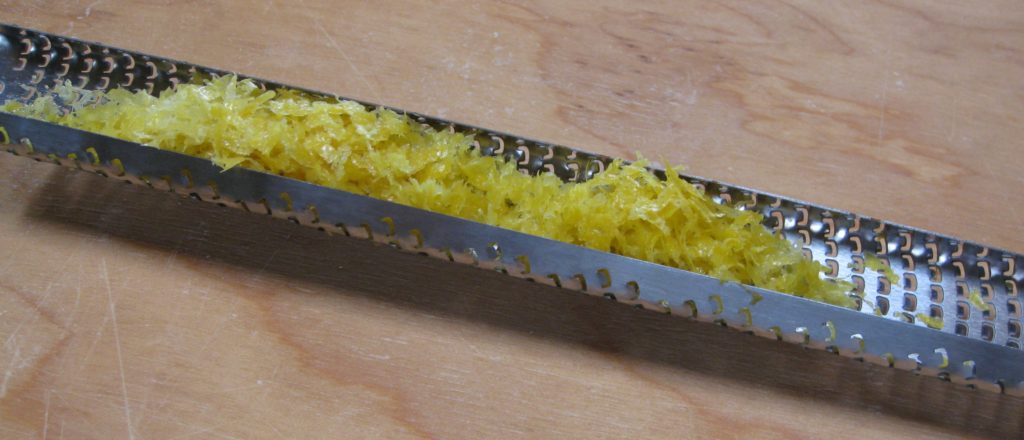 There were dueling crostoli served for dessert (along with pizzelle, nut roll, and biscochitos).
Rich's were long and thin, with a slit cut in the middle through which one end of the dough was twisted before frying. This seems to be the most traditional shape that I've seen in my research, though Lidia Bastianich, who is also from very near where my mother-in-law was born, ties hers in a knot.
Having seen pictures of crostoli twisted and tied before embarking on making them with my mother-in-law, I asked her why hers were just left as irregular squares (well, quadrilaterals, really) of dough. That's the way her mother made them was, of course, the first response. After which she added that she liked them to puff up, which they don't do if they're twisted or tied.
The other difference in the crostoli is that Rich used anisette to flavor his whereas my mother-in-law used lemon zest and vanilla.
The anisette was definitely a new twist. In researching crostoli, I've seen citrus, usually lemon or orange, as the most common flavoring.  Often vanilla is added; sometimes brandy or rum. Never have I run into a recipe with anisette. Hopefully Rich will weigh in on his family's recipe for crostoli and how they came to use anisette for flavoring.
Meanwhile, enjoy!
---
If you have a favorite family recipe and a bit of a story to tell, please email me at santafecook@villasentieri.com and we can discuss including it in the blog. I am expanding the scope of my blog to include traditional recipes from around the country and around the world. If you haven't seen Bertha's Flan, it will give you an idea of what I'm looking for.
---
Crostoli are pastries that re rolled thin, fried, and dusted with granulated sugar. Powdered sugar melts and becomes sticky so granulated sugar is traditional. Crostoli are usually larger than the ones shown here, something like 1 ½ inches by 3 or 4 inches. We made these smaller because they were being served as part of a dessert buffet at the end of a large meal.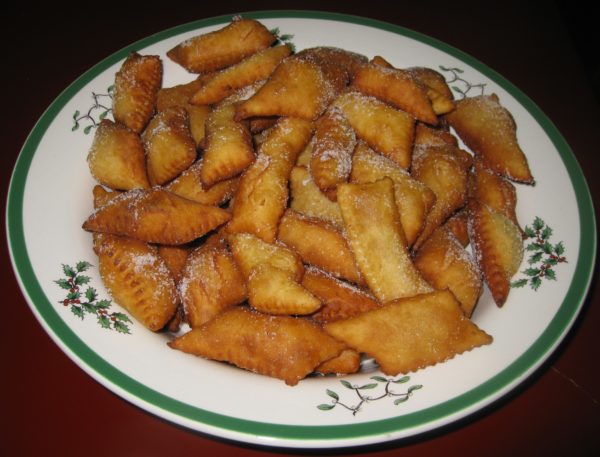 | | |
| --- | --- |
| | |
Combine flour, sugar, baking powder, lemon zest and salt in a large bowl. Mix well.

Make a well in the center and add eggs. Using a fork, begin to incorporate the flour.

Add vanilla extract, lemon juice and incorporate.

Mix to form a soft, non-sticky dough.

When the dough becomes too stiff to mix with a fork, use your hand. Do not over knead.

Cut into four or five pieces.

Roll out less than 1/8 inch thick, dusting with a little flour as needed to keep the dough from sticking.

Cut into rectangles, approximately 1 1/2 inches by 3 inches, with a zig-zag cutter.

When all are cut, deep fry until brown. If you are not comfortable doing this from experience, use a thermometer and keep the oil at about 350 degrees Farenheit.

Sprinkle with granulated sugar as soon as they are removed from the oil so the sugar sticks.

They are best the same day but will stay fresh at least one day at room temperature, loosely covered.
Copyright © 2017 by VillaSentieri.com. All rights reserved.