November 27, 2017
One of the interesting consequences of working on this blog is that it is getting me to cook more Slovak food.
We ate way more Italian food than Slovak food when I was growing up but, nonetheless, Slovak food was a significant presence on our table.
Things that only lived in my memory, like the Chicken Paprikash that I posted a few weeks ago, and my Grandma Mihalik's Butter Cookies that are coming up in a week or two, are now real. And it's not only the Slovak food. The Chinese Five-Spice Roast Pork from last week hasn't been on my table in more than 40 years!
---
Click HERE to follow us on Instagram
---
Part of the reason is that, as much as I enjoy cooking, I hadn't devoted as much time to planning what I was going to cook as I did when I was younger.  That is, until I got deep into this blog (and the restaurant cookbook I've been asked to write).
In Junior and Senior years of college there was a plan for dinner for every day of every week. Sometimes there was a plan for lunch, too!
Good provisions weren't conveniently located to the University of Pennsylvania campus except for some specialty items from the ethnic markets near campus or the occasional very basic item from one of two nearby (in-super) supermarkets. Grocery shopping was done weekly and involved a trip to Ninth Street (sometimes called the Italian Market), and to the Pathmark supermarket in Broomall, PA.
Every meal got planned and a shopping list was created.
The planning was usually done in the evenings when I needed a break from studying (which I know some of you think I never did!). I would sit down with a cookbook or two, or my box of recipes handwritten on 3" x 5" index cards, or the typewritten recipes from Mrs. Hugh, my roommate's mother and, over the course of the week, generate a list of what my roommate and I were going to have for dinner each night. Some were favorites but many were new, like the whole poached fish I made from Marcella Hazan's first cookbook or Mrs. Hugh's Crispy Duck (see the photo embedded in this blog post).
One of my favorite books was a slim volume by Charmaine Solomon. Charmaine was from Sri Lanka and two of the resident advisors in my college house, Reggie and Nanacy Rajapakse, were also from Sri Lanka and knew Charmaine. Charmaine's Far Eastern Cookbook was copyrighted in 1972 (the year I started college). The edition I have was printed in 1973 so it was quite new when I bought it in 1974 shortly after entering the International Residence Project. I read that book cover to cover, like a novel, many times. I could sit for hours and pore over Charmaine's recipes.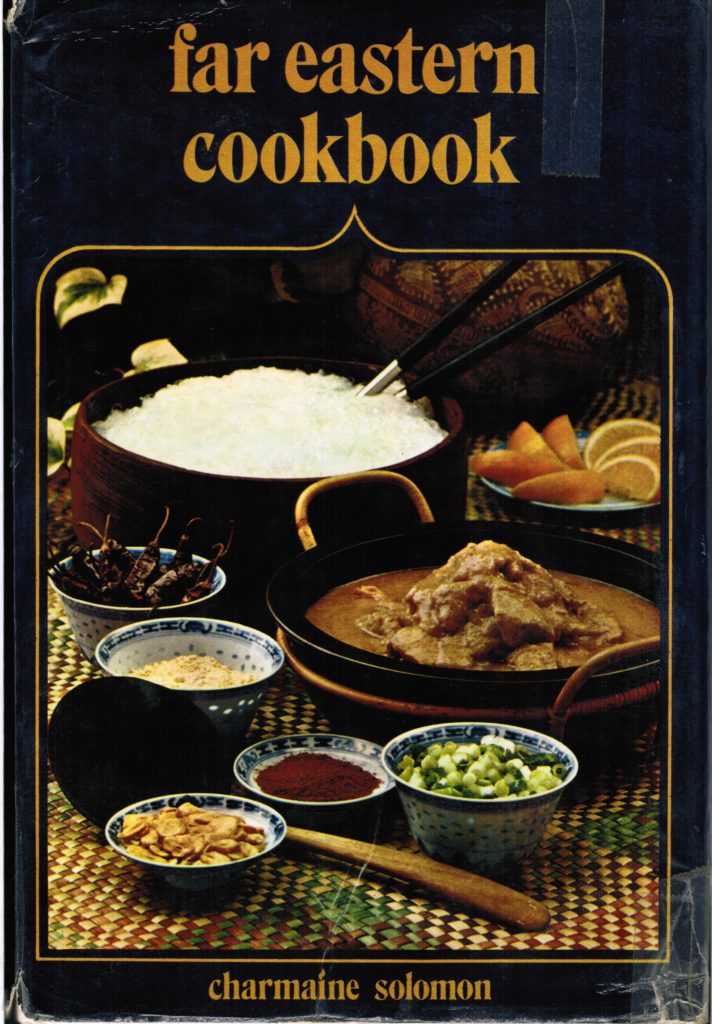 In 1976, when I graduated college, Reggie and Nanacy bought me another of Charmaine's cookbooks as a present, The Complete Asian Cookbook.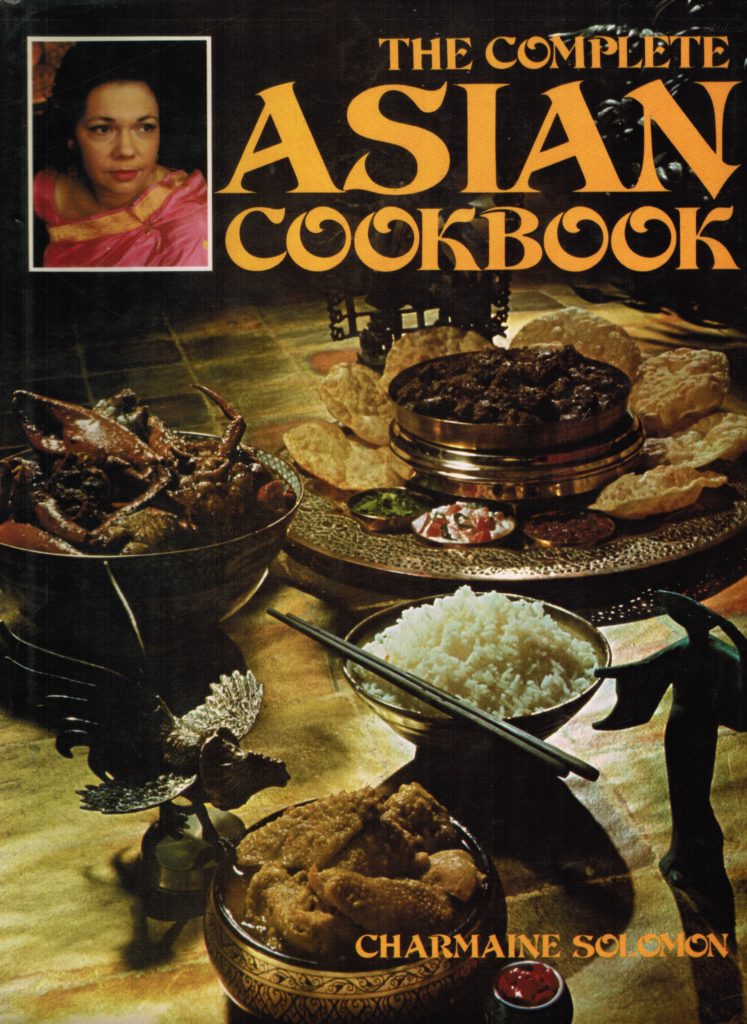 Another favorite cookbook was the [Ceylon] Daily News Cookery Book which was in the collection of the Van Pelt library at the University of Pennsylvania. I would check it out, keep it as long as I could, return it, and then check it out again. It was a hardcover book with a red cloth cover. It was simply titled the Daily News Cookery Book.  Reference to Ceylon was nowhere to be found in the title.  Many years later, on a trip to Sri Lanka, I was able to get a reprint of the book (with the word Ceylon added to the title).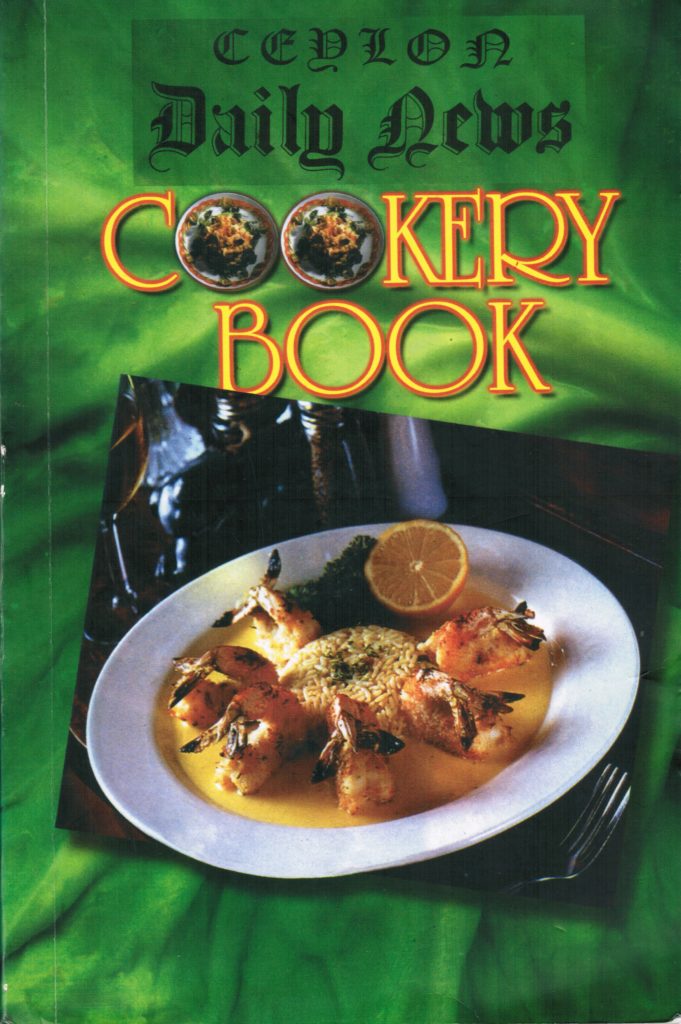 My point, though, is that my cooking repertoire expanded because I worked at it. Ray and I planned every meal, we went grocery shopping, we cooked, and we most certainly ate. I was still able to keep up a good cooking pace through medical school but after that, as I got busier and busier, it became harder and harder.
While I can put food on the table any given night without much thought, recreating past favorites or trying out new recipes requires more planning. I now have a calendar specifically devoted to cooking. Dishes get planned out weeks, if not months, in advance. It's a lot of work, yes, but it's tremendously rewarding to prepare my favorite foods, many of which I haven't had in many years, and introduce them to others.
Cabbage and Noodles, sometimes called Halushki, was frequently on our table. I remember it particularly being served with Salmon Patties, one of my favorite Friday meals when we didn't eat meat. We had it other times, too, but the association of Cabbage and Noodles with Salmon Patties is very strong.
---
Follow us
---
Click HERE to join our mailing list and you'll never miss a recipe again!
Although three pounds of cabbage sounds like a lot, it cooks down a tremendous amount. If you wish, you can add a teaspoon or two of caraway seed to the cabbage during the last 20 minutes of cooking. Though my family did not do that, it is not unusual to do so.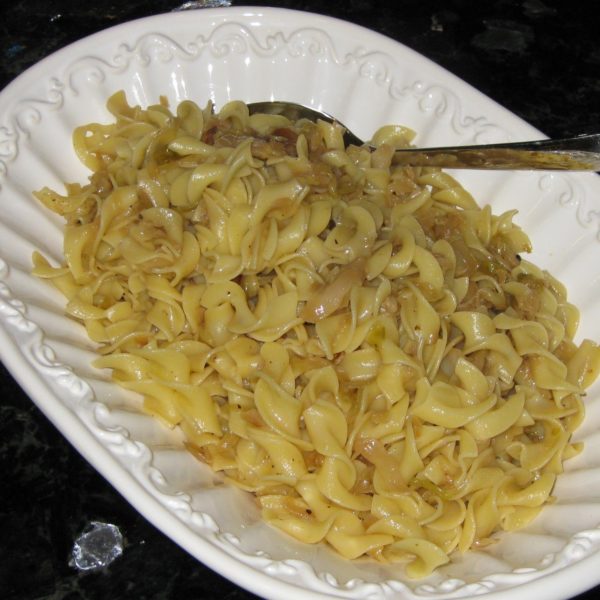 | | |
| --- | --- |
| | |
Quarter and core the cabbage.

Slice each quarter crosswise into ½ inch wide ribbons.

In a heavy-bottomed pot large enough to hold the cabbage comfortably melt four tablespoons of the butter.

Sauté the onion in the butter until golden.

Add the cabbage. Season generously with salt and pepper.

Sauté on medium heat, stirring often, until the cabbage wilts.

Reduce the heat if the cabbage starts to stick to the pot.

Continue to cook on medium low, partially covered and stirring often, until the cabbage is silky, golden, and sweet. This will take 1 ½ to 2 hours total from start to finish.

The cabbage can be cooked several hours in advance to this point. Warm the cabbage before proceeding.

Bring 3 quarts of water to a rolling boil. Add 1/3 cup of salt.

Cook the egg noodles in the salted water until just done. They should be slightly toothy and definitely not mushy.

Add the noodles to the cooked cabbage along with the remaining 2 tablespoons of butter. Toss well.

Taste and adjust salt and pepper.
Copyright © 2017 by VillaSentieri.com. All rights reserved.