October 20, 2017
We've been to Argentina at least three times. Once as part of a trip to explore wine country in Chile and Argentina, once as part of a trip to Antarctica for which the ship left from Tierra del Fuego, and once with my in-laws to visit relatives who lived in Patagonia.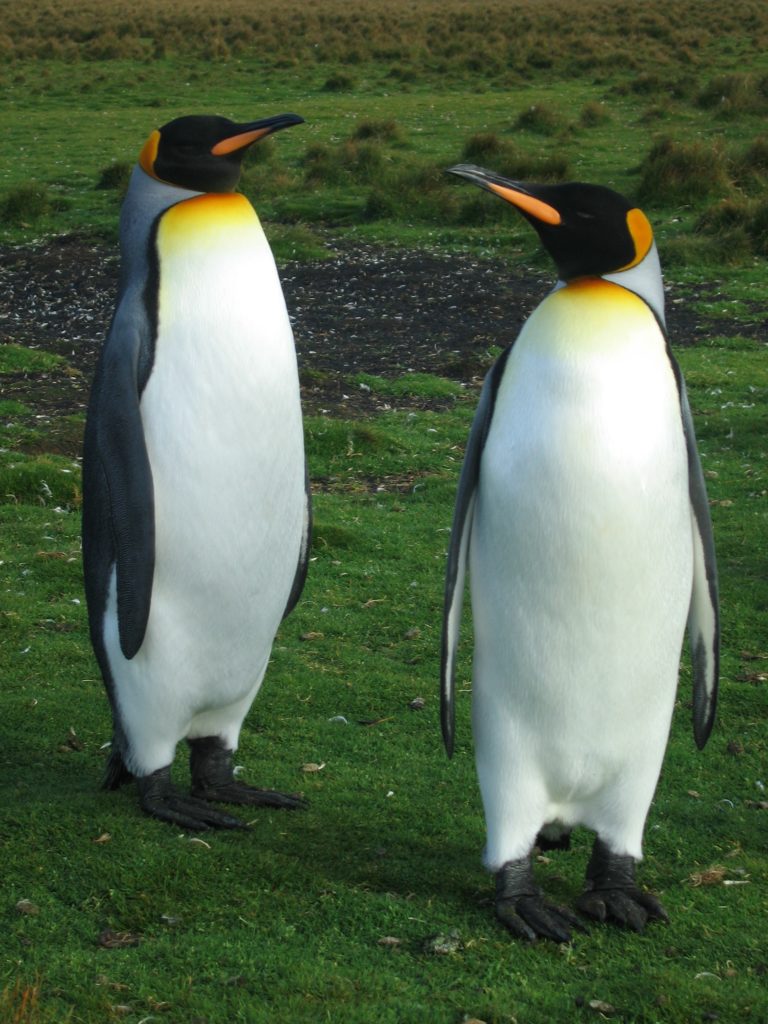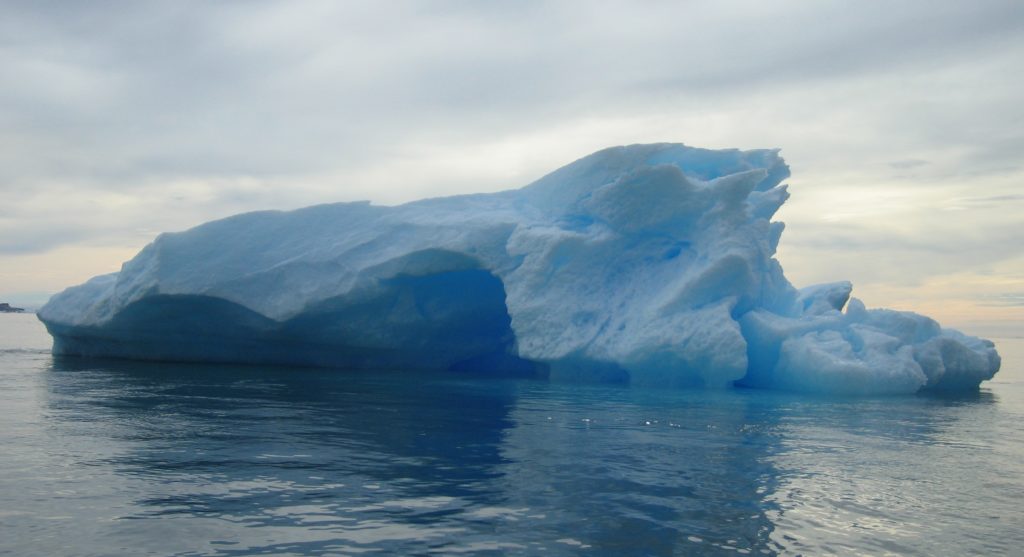 On each trip we spent some time in Buenos Aires, some more than others. And on each trip we did the Argentine thing of eating copious quantities of meat.
Eateries abound selling meats of various types cooked over live charcoal. The less fancy, but no less good, ones are often outdoor affairs with pots of chimichurri on each table. Often, the maestro de parrilla (grill master) is standing just feet away tending several large parrillas (grills) brimming with various cuts of meat. One of our most memorable meals of grilled meats was at just such a place in the suburbs of Buenos Aires with a friend from the States who married an Argentine and moved to Buenos Aires.
I developed a true appreciation for the extent to which Argentines love meat, however, at several family dinners at my husband's Great Uncle Duilio and Great Aunt Juliana's house in Puerto Madryn, Patagonia. Duilio is Fidalma's brother. I've mentioned Fidalma several times in this blog.
We spent a week in Puerto Madryn and had two Sunday dinners with Duilio's family (daughters, sons-in-law, and grandchildren).
To accommodate large family gatherings, one of Duilio's daughters converted an outbuilding to host bacchanalian feasts. There was a large indoor parilla with grill racks, an iron cross to hold an entire lamb near the charcoal, and a hook to hold a cauldron over the heat. There was another parilla just outside the door, in the courtyard. The rest of the interior space was given over to a very, very long table and chairs.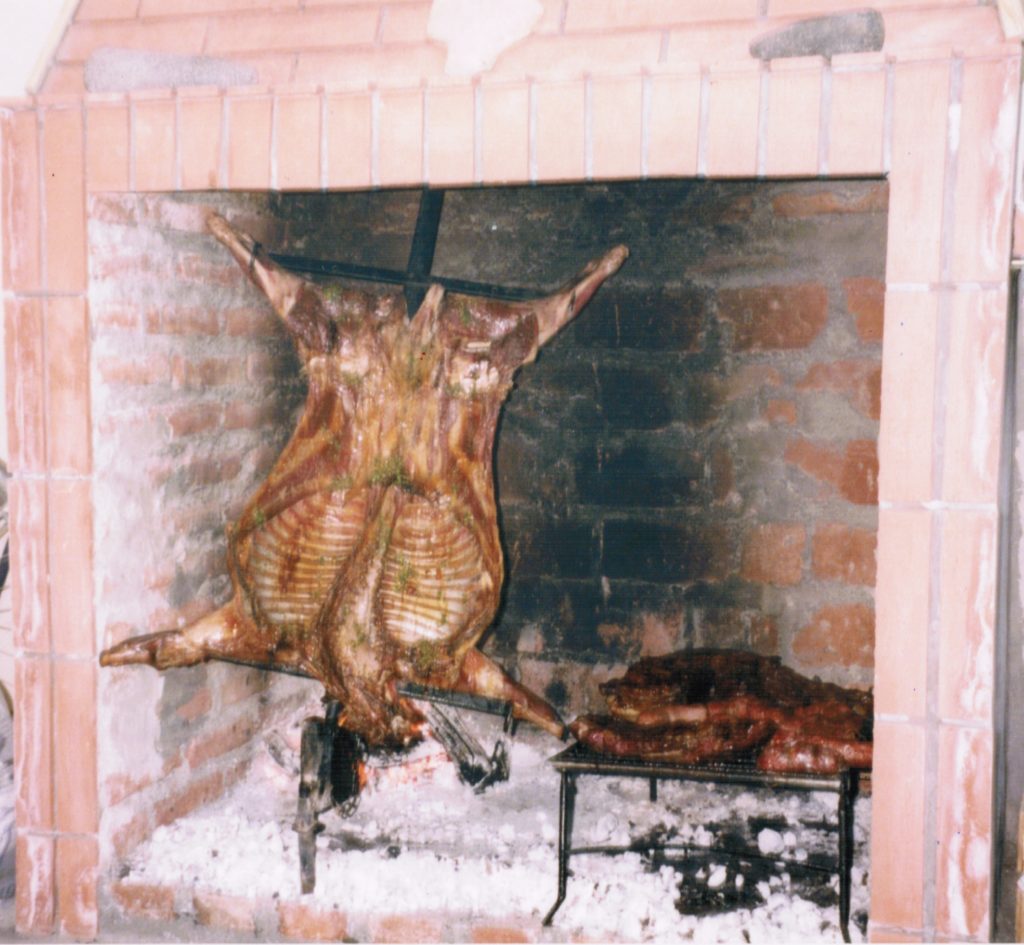 When we arrived for the second Sunday dinner, Eduardo, one of Duilio's sons-in-law was frying 15 kilos (that's 33 pounds!) of calamari in a large cauldron set over a fire in the indoor parilla. This was just to keep us from getting restless and hungry as the rest of the meal was prepared.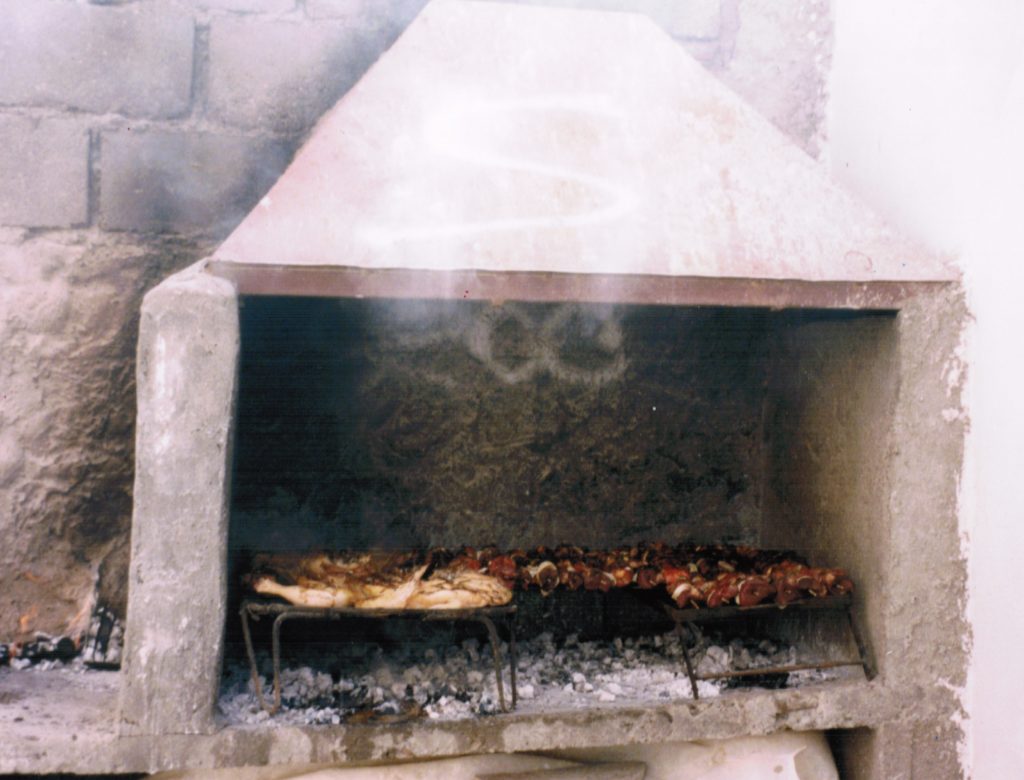 When we sat down to eat, the first course was grilled chicken. The grilled chicken course was followed by grilled sausages. The grilled sausages were followed by grilled lamb. The grilled lamb was followed by grilled beef.
Yep, each course was a different meat!
Truth be told, there were some vegetables on the table. But that doesn't mean they were eaten by most of the family and the quantity certainly paled in comparison to the herd of animals that made its way onto the table in succession.
The seating arrangement was in strict age progression. Duilio and Juliana sat at the head. On either side of them sat my husband's parents. Next to them on opposite sides of the table was where my husband and I were seated. After that came Dulio and Juliana's daughters and their husbands. The remainder of the table was filled with grandchildren.
The vegetables started at "our" end of the table. Duilio and Juliana, as well as my in-laws and the two of us actually put vegetables on our plates. Duilio and Juliana's daughters took a bite or two, as I recall. The sons-in-law and grandchildren wanted nothing to do with anything that was suspiciously related to a root!
And there you have it. Course after course of meat, no veggies for the "true" Argentines, a bit of dessert, and the obligatory cup of mate passed around the table.
Eduardo cooked all the food magnificently. This is his chimichurri recipe. It contains a few ingredients that might seem unusual but since his family has been in Argentina for many generations who am I to argue?
In addition to serving as the typical condiment for grilled meat, chimichurri is also as a marinade for the same meat. It will keep a week in the refrigerator so be sure to make enough to both marinate the meat and serve as a condiment.
---
Follow us
---
Click HERE to join our mailing list and you'll never miss a recipe again!

While a few of the ingredients may seem unusual, Eduardo's family has lived in Argentina for several generations so I don't doubt the traditional nature of this recipe. Make extra and use some to marinate the meat before cooking. Pass the remainder at the table. You can use either red or white wine vinegar but I prefer white as it does not dull the bright green color of the herbs.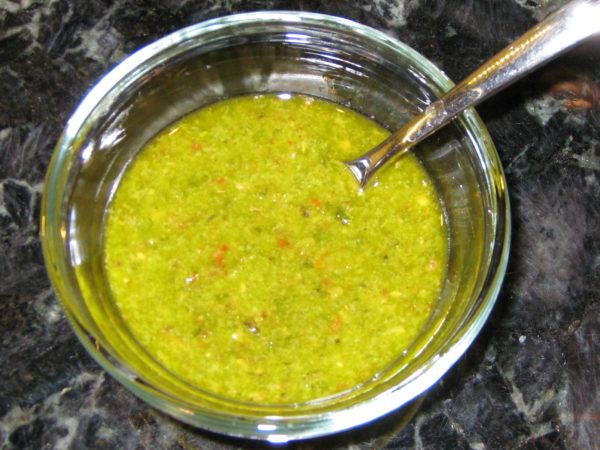 | | |
| --- | --- |
| | |
In a jar with a tight-fitting lid large enough to hold the finished sauce, combine the mustard and water.

Allow the mustard-water mixture to stand approximately 7-10 minutes to develop the mustard's flavor.

Meanwhile, in a small blender jar, combine the garlic and one-half of the olive oil. Blend until garlic is finely minced.

Add the basil to the garlic-oil mixture and blend again until basil is finely chopped but not pureed.

Add the garlic-oil-basil mixture to the mustard mixture.

Combine the remaining oil and parsley in the blender jar and blend until parsley is finely chopped but not pureed.

Add the parsley-oil mixture to the herb mixture.

Use the wine to rinse out the blender jar and then add it to the herb mixture.

Add all other ingredients. Mix well.

Cover and allow the chimichurri to sit at room temperature for approximately three hours to develop flavor.

The chimichurri can be refrigerated, tightly covered, for up to a week.
Copyright © 2017 by VillaSentieri.com. All rights reserved.