August 25, 2017
Mike Abramson says his carrot cake is the best ever.
Janet Carlson doesn't necessarily agree.
For now, the controversy will need to simmer as I only have Mike's (Justifiably Famous) Carrot Cake recipe, though I have suggested to Janet that she and Mike have a carrot cake bake-off.
Mike makes no apologies for having stolen the recipe from Tom Grier, originally of Grier, Georgia.
The story goes something like this…
In the 1970's a group of four friends from San Francisco bought a weekend house, they named Aros, near Sebastopol, California. The four owners rotated use of the house, each getting it for a week at a time but also sometimes showing up there together to host parties as in the photo below.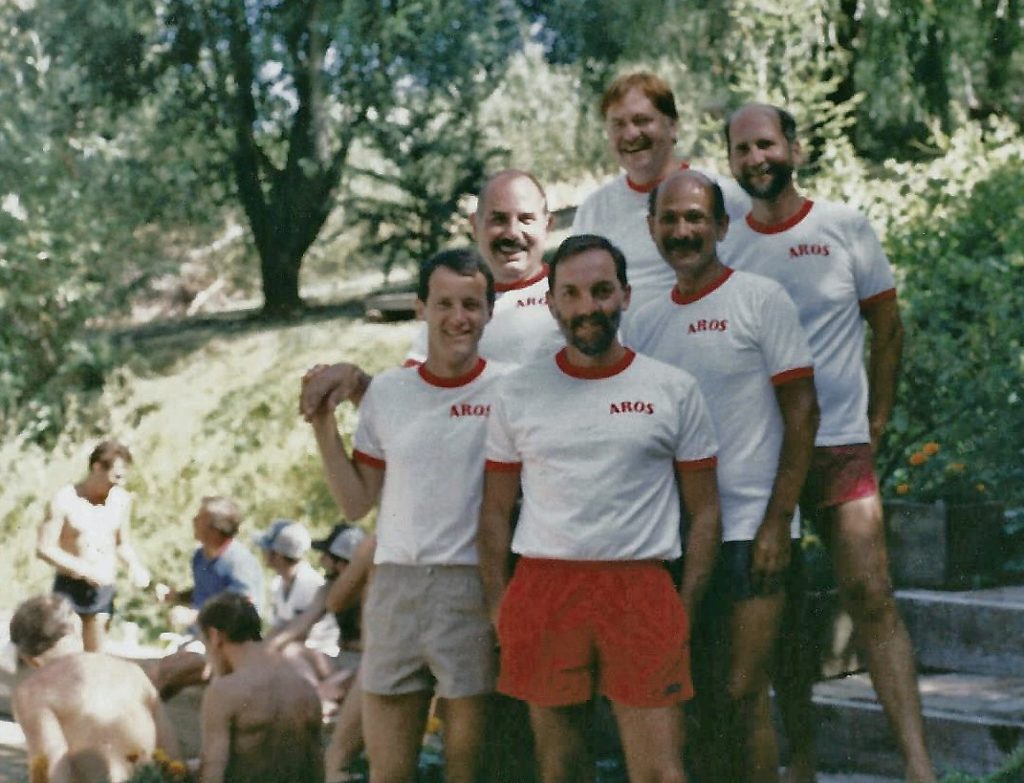 Over the years, ownership of the house shifted as some individuals sold their interest and others bought in.
At one point, Tom Grier was the youngest owner.
The group met on a quarterly basis in San Francisco to discuss maintenance issues related to the house. As with use of the house, these meetings were held in rotation at the owners' homes in San Francisco.
Whenever Tom hosted the meeting, he served carrot cake, which Mike believes originated as a Grier family recipe. Tom shared the recipe with Mike and the rest is history. Mike's (Justifiably Famous) Carrot Cake was born.
But for Janet's assertion that Mike's might not be the best carrot cake in the world, well, we'll just have to wait for the bake-off.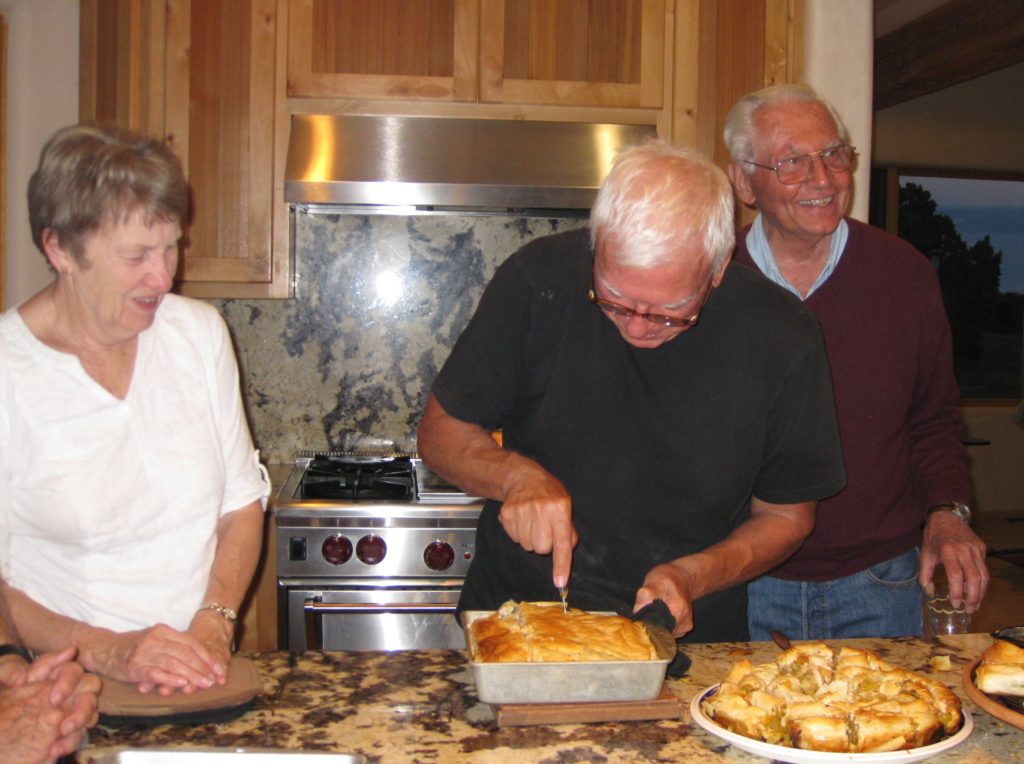 ---
Follow us
---
Click HERE to join our mailing list and you'll never miss a recipe again!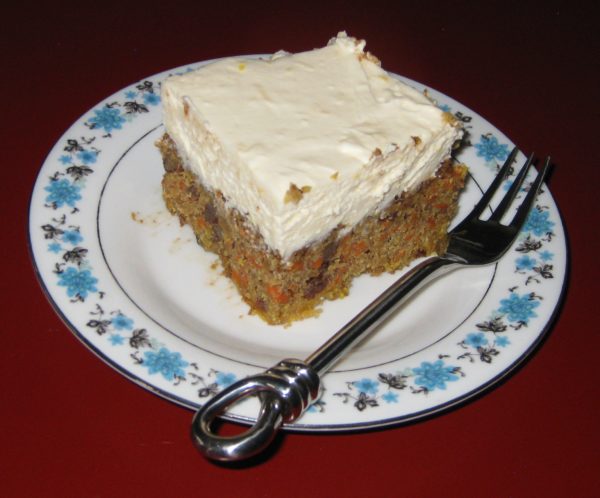 | | |
| --- | --- |
| | |
Butter and flour a 9" x 13" baking pan.

Grate the carrots on the tear-drop holes of a box grater.

Combine the flour, baking powder, baking soda, salt, cinnamon, cloves, allspice, nutmeg, and brown sugar in the bowl of a stand mixer. Mix with the paddle.

Add the oil and eggs to the flour mixture. Blend until combined.

Add the carrots and crushed pineapple with the juice. Mix thoroughly.

Add the walnuts and raisins. Stir to combine.

Pour into the prepared pan. Bake at 350°F for 35-40 minutes or until the center springs back when lightly touched.

Cool completely in the pan before frosting.
Beat cream cheese and butter until light using the paddle of a stand mixer.

Beat in all other ingredients.
For recipes that call for solid vegetable shortening, such as Crisco, I use coconut oil is due to concerns about the negative health effects of hydrogenated fats.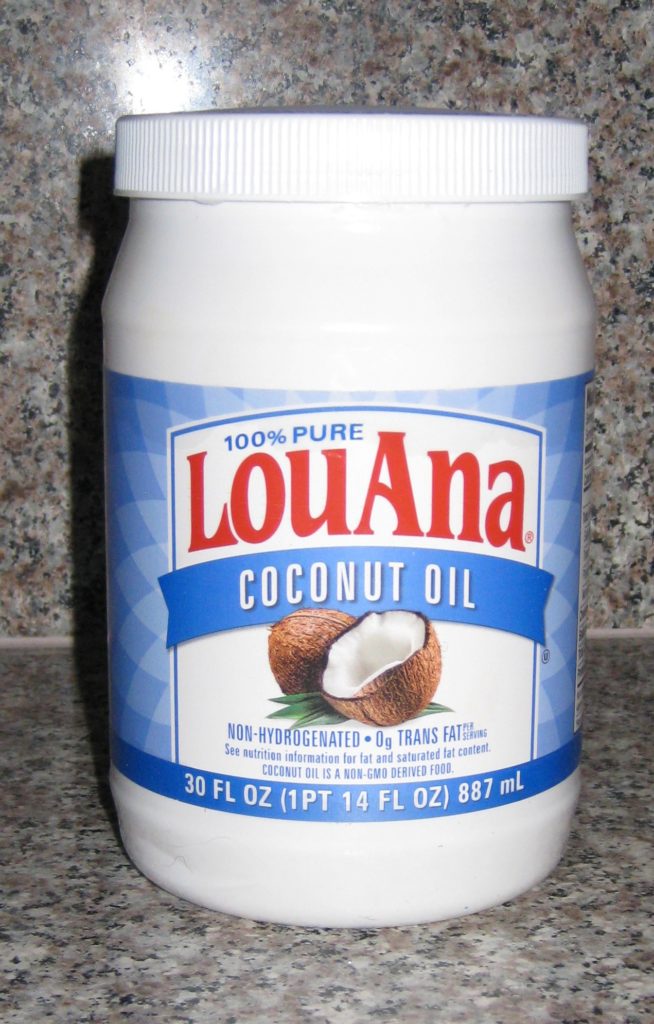 Copyright © 2017 by VillaSentieri.com. All rights reserved.