January 26, 2018
My father liked soup.  Actually, my father really, really liked soup.  Every few weeks my mother would make beef noodle soup as it was one of my dad's favorites.  Beef noodle is the soup we had most often.  Goulash was the "stew" we had most often.  In fact, I don't remember my mother ever making an American-style beef stew.
The first American-style beef stew that I ever made was from a recipe that my sister started using after she got married.  It was definitely not one of our family recipes, though it was good.
After the beef noodle soup that my mother made on a regular basis, other soups were just occasional affairs, though soups of various types appeared often on our table.
---
Click HERE to join our mailing list and you'll never miss a recipe again!
---
Italian "Wedding" Soup was a favorite but not something that we had more than a three or four times a year.  Everyone in the family really loved Wedding Soup but, honestly, it's a lot of work.  It's coming to the blog next month but today we have my Mom's Lentil Soup.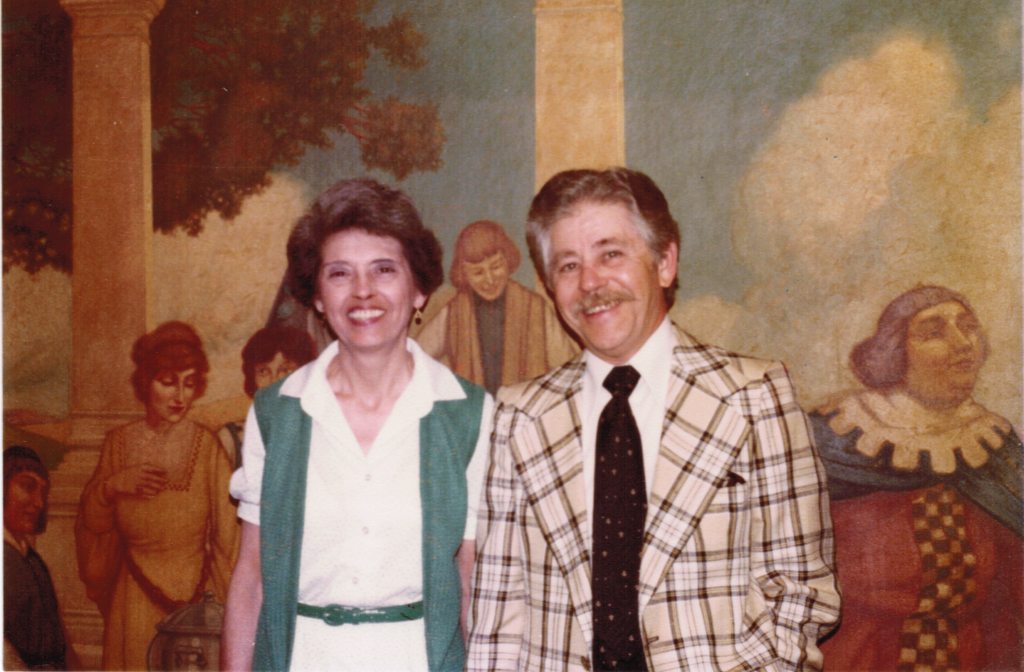 Let's face it, lentil soup isn't something people swoon over.  At best it is good comfort food.  That's exactly what this is for me.
It's also easy to make.  A few minutes of chopping and some stirring off-and-on are rewarded with a really good pot of soup.
My mother's lentil soup was unusual in that she put enough black pepper into it to create a distinct bite.  The first time I tasted it, as an adolescent, I was surprised by how peppery it was but I loved it.   Whether or not you add that much black pepper is entirely your choice but, in my mind, it's the black pepper that sets my mother's lentil soup apart from the pack.
---
Follow us on your social media platform of choice
---
Consistent with my mom's low-and-slow philosophy, this soup is cooked longer that would be typical, for the average American cook at least.  Despite the long cooking, the lentils remain intact though soft.  They don't really fall apart the way that dry beans might.
This soup freezes well so a big batch shouldn't be a problem.
While a ham bone makes great lentil soup, it's not something that most households have on a regular basis but a handful of baked ham or a few ounces of bacon make an awfully tasty soup.
---
If you have a favorite family recipe and a bit of a story to tell, please email me at santafecook@villasentieri.com and we can discuss including it in the blog. I am expanding the scope of my blog to include traditional recipes from around the country and around the world. If you haven't seen Bertha's Flan or Melinda's Drunken Prunes, take a look.  They will give you an idea of what I'm looking for.
---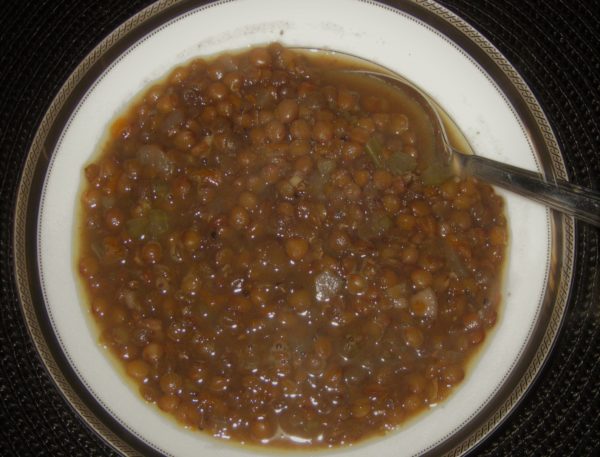 | | |
| --- | --- |
| | |
Wash and pick over the lentils then drain.

Shred the carrot on the tear-drop side of a box grater.

Put all the ingredients in a large stock pot.

Cover and bring to a boil.

Reduce heat and simmer partially covered for 2 to 2½ hours.

Adjust salt and pepper to taste.

The soup should be thick and the lentils soft but intact.
Copyright © 2018 by VillaSentieri.com. All rights reserved.