July 24, 2017
Polenta isn't traditionally a Southern Italian food.  It is a staple of Italy's northern provinces, however.
I didn't eat polenta until I was in college; the time of my greatest food exploration and experimentation.
Granted, Northern Italian food isn't as far afield from the Southern Italian food I grew up with as are the Sri Lankan, Chinese, Bangladeshi, Filipino, and West Indian food that were a large part of my food exploration in college.
Even when I stayed within the bounds of European food, I could move close to the edge.
For example, my roommate worked in an anesthesia research lab.  Rabbit blood was used for experiments, so rabbit ended up on our menu regularly (as it did on the menus of other lab workers).  Those rabbits became the impetus for learning to make Hasenpfeffer the traditional way.
Read any Hasenpfeffer recipe now, and you will be instructed to marinate the rabbit in an acidic marinade in the refrigerator.  But refrigeration is a recent invention in the history of Hasenpfeffer.
My culinary endeavors at that point operated out of a six-foot-wide Pullman kitchen with an under-counter refrigerator in a dormitory apartment.  My roommate and I turned out major meals every day of the week.  We had two shopping days, one to the open-air Ninth Street market in Philadelphia (aka the "Italian Market") and one to the Pathmark Supermarket in Broomall, PA.  The supermarkets around the University did not have the best selection or quality at that time.
Our little refrigerator was always packed like a jigsaw puzzle.  (Just ask my husband about my ability to pack a suitcase and it will give you some idea of how I packed that little fridge!)
That meant, however, that there was never any room to refrigerate a marinating rabbit.  I turned to the age-old method and marinated it at room temperature for two days before cooking it.  By the end of that year of college I turned out a pretty decent Hasenpfeffer.
Then there was the Guyanese version of an originally Portuguese dish, called Garlic Pork in Guyana.  Versions of the dish can still be found in Portugal and in former Portuguese-controlled areas like Goa in India.  In Guyanese Garlic Pork, cubes of pork are marinated in vinegar seasoned with lots of Scotch Bonnet peppers and thyme.  As you can imagine, given our refrigerator situation, the marinating took place at room temperature.
All this marinating happened in what were then (in the 1970's) vintage British apothecary jars that I brought back from Guyana.  Every household in Guyana had one or more of these jars and they were the standard vessel for marinating Garlic Pork.  They also work well for Hasenpfeffer!
I still have these jars and really prize them.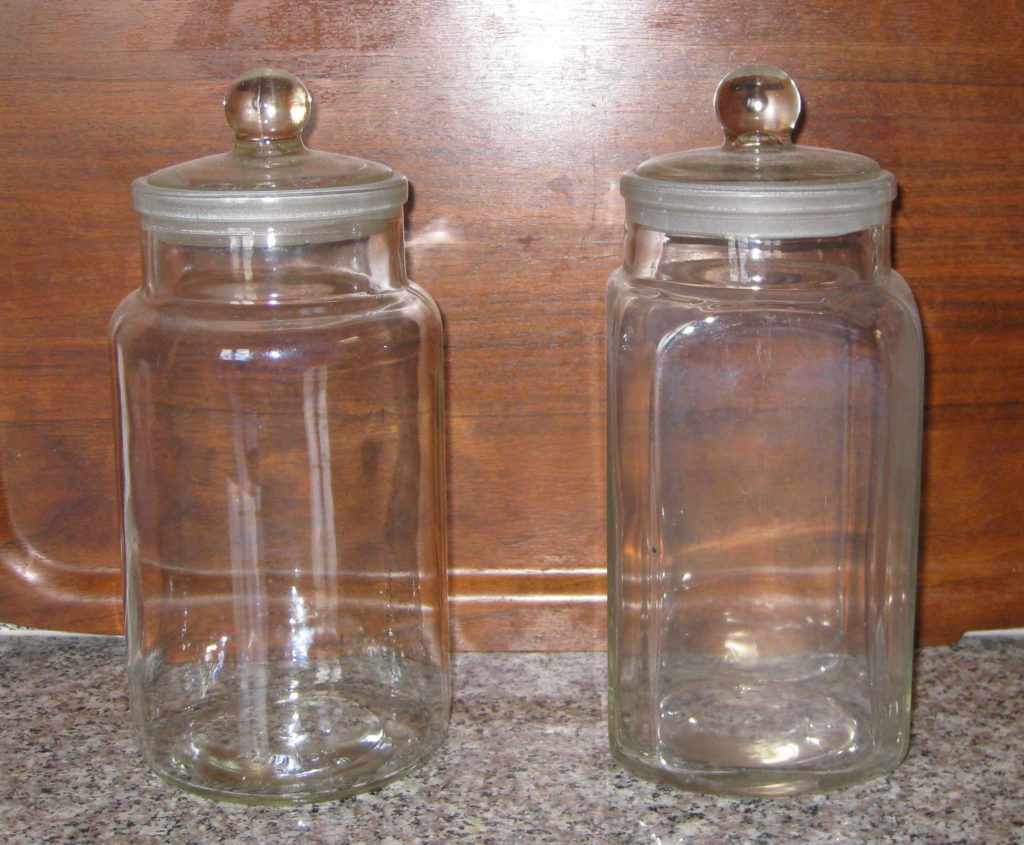 Meat marinating in a jar can be pretty unobtrusive.  Not so a duck, head and feet intact, strung up from an eye hook in the ceiling!
My roommate's mother, of Chinese heritage, sent us a sheaf of her recipes that she neatly typed out on onion skin paper.  (I still have them.)  One of the recipes was for a home-style version of Peking Duck.  The duck had to hang at room temperature for a day, being periodically lacquered with a mixture of soy sauce and other ingredients before roasting.  The duck, hung right inside the door, greeted visitors to our dormitory apartment for the better part of a day.
By comparison, learning to make Northern Italian food was pretty tame.  Enter Marcella Hazan (via her first cookbook) to teach me the basics.  She was demanding when it came to making polenta, insisting that it be stirred non-stop for 45 minutes.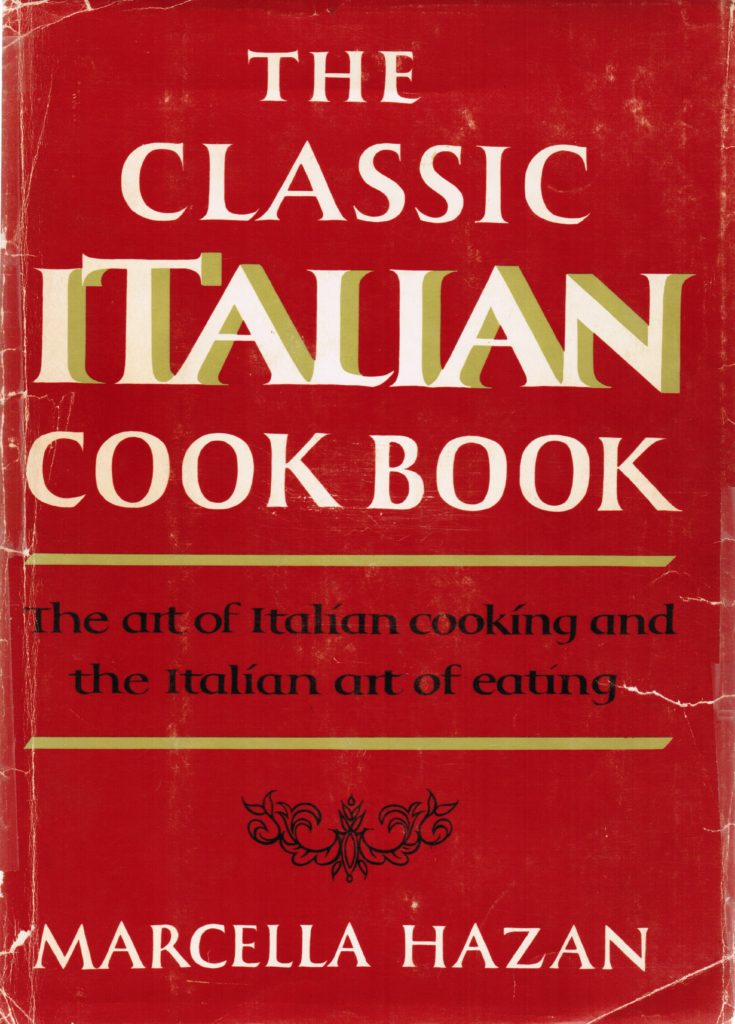 Honestly, I did it that way until sometime in 1996 when my mother-in-law convinced me that constant stirring was not needed.  It's much easier to make polenta if one just stirs periodically.  And the best thing is, it WORKS!
On a trip to Italy with my in-laws I bought a traditional unlined copper polenta pot.  I don't know if it makes better polenta than an ordinary pot but I love using it.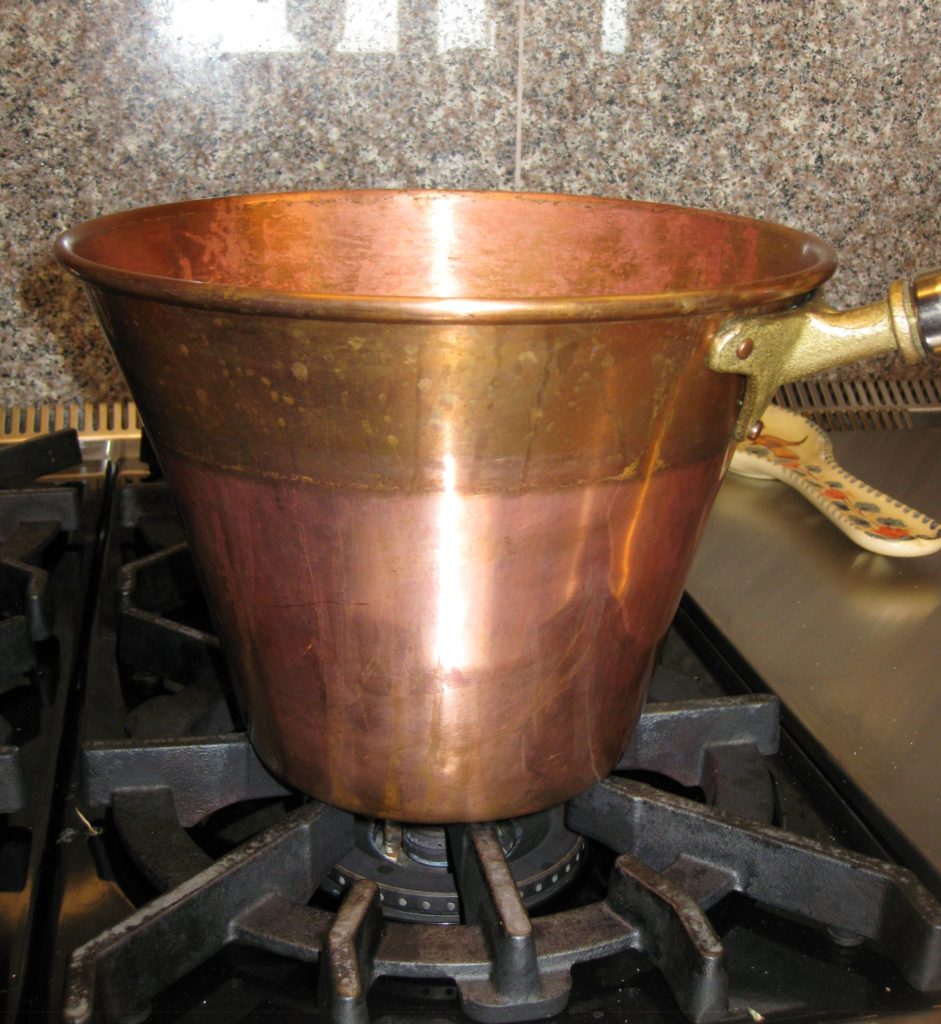 The traditional implement for stirring polenta is a round wooden paddle.  On the left, below, is the one my mother-in-law's father made for her.  On the right is a paddle I picked up at the Otovalo market in Ecuador more than 20 years ago.  I prefer it to the stick as it provides more "action" in the pot.  (Truth be told, my mother-in-law prefers it too!)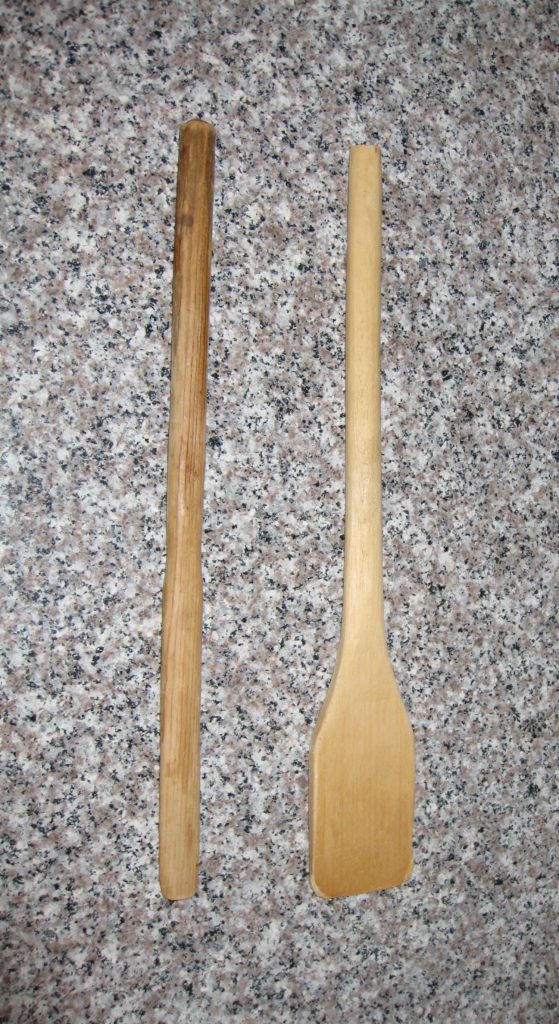 While yellow and white cornmeal are traditional, in New Mexico I can get blue cornmeal which I like to use for its dramatic color.
Cornmeal should be gently showered into the boiling water while stirring.  Fine cornmeal tends to develop lumps more easily than coarse cornmeal.  In this video, I am using coarse cornmeal and can therefore add it more quickly.
---
Follow us
---
Click HERE to join our mailing list and you'll never miss a recipe again!

In Italy, cornmeal used for polenta is either white or yellow. In New Mexico I have access to blue cornmeal. The blue cornmeal turns purple when cooked in unlined copper. It provides a nice contrast on the plate. There really are not many purple foods! I find that it takes more water to cook polenta at high altitude. I use 5 cups of water for every cup of cornmeal. At sea level 4 ½ cups would work fine. Coarse cornmeal takes a bit more water than fine cornmeal. Both are traditional. It is a matter of personal preference which to use. Polenta is traditionally accompanied by a dish that has a sauce. Sausage with Cardoons is a good choice. See the Notes section for a link to the recipe.
Bring water and salt to a boil in a saucepan that will give you plenty of room to stir.

Slowly shower in the cornmeal, stirring all the while. You should basically be able to see the individual grains as you add the cornmeal. This will help to avoid lumps. If you notice a lump, stop adding cornmeal and stir vigorously to break up the lump. Using a wire whisk to vigorously stir the water while adding the cornmeal also helps to avoid lumps. After all the cornmeal is added, change to a sturdy wooden spoon.

After all the cornmeal is added, cook at a moderately low boil for 45-60 minutes stirring often. Coarse cornmeal takes longer to cook than fine cornmeal. That said, 45 minutes should be the minimum cooking time. The flavor changes with extended cooking so don't be tempted to treat polenta like grits and cook it briefly.

If you find that the polenta is getting too stiff before the cooking time is up, add a little bit of BOILING water and stir well.

When cooked, the polenta should be thick but pourable and definitely not runny.

Pour into a shallow serving bowl or rimmed platter and serve immediately.

A bowl of more traditional yellow polenta.
Click here for the recipe for Sausage with Cardoons.
Copyright © 2017 by VillaSentieri.com. All rights reserved.