May 5, 2017
I grew up in a house where there was absolutely no use for the carcass from a roasted turkey.  Other than my sister and I fighting over who got the crispy skin from the turkey breast, the skin went into the trash heap too.
You might imagine my surprise when, in college, I discovered that people actually did things with carcasses from roast turkey, like make broth to be used for turkey noodle soup.
To be sure, my recipe for turkey noodle soup will be posted later this month but in the meantime I would encourage you to make broth from the bones of most any roast, be it turkey, chicken, duck, pork, or beef.  Then, be creative with how to use it.
Broths made from roasted meat bones and bits of meat have a really savory quality that you won't get from a broth made with uncooked meat.  You can't always use them interchangeably so think about how the roasted-meat savoriness will play off the other flavors in the dish.
Roasted meat broths usually work well in hearty soups, for example, or as the liquid in a pot of Southwestern style cooked beans.  Frozen in small containers or ice cube trays, you can use the broth as the liquid for a quick pan sauce or to enrich gravy.
In fact, when I make gravy for Thanksgiving, I start by roasting a couple of Cornish game hens or a few pounds of chicken or turkey wings until they are very, very brown.  I use the roasted meat and some vegetables to make a rich, dark brown broth.  I concentrate the broth even more by boiling it down to about 3-4 cups.  While the turkey is roasting, I use the broth to make gravy, which I simmer for a couple of hours until it's silky.  When the turkey is cooked, I deglaze the pan, skim the fat off, strain out the solids, and add the liquid to the gravy that has been bubbling away for a couple of hours.  By the time the turkey has rested and been carved, the gravy has reduced, again, to the right consistency.  The gravy is rich and savory and, more importantly, there's enough to smother everyone's mashed potatoes and turkey.  Doing it this way also removes the last-minute rush of actually making gravy on-the-spot from the pan drippings while you're trying to get the meal on the table.
You might ask why I am dealing with a roasted turkey in spring rather than November.  Easter Dinner!  In addition to ham, I always make turkey since some of our friends don't eat critters with more than two legs.  So, just for fun, here are a few pictures from Easter, complete with the bleeding lamb cake we always have for dessert.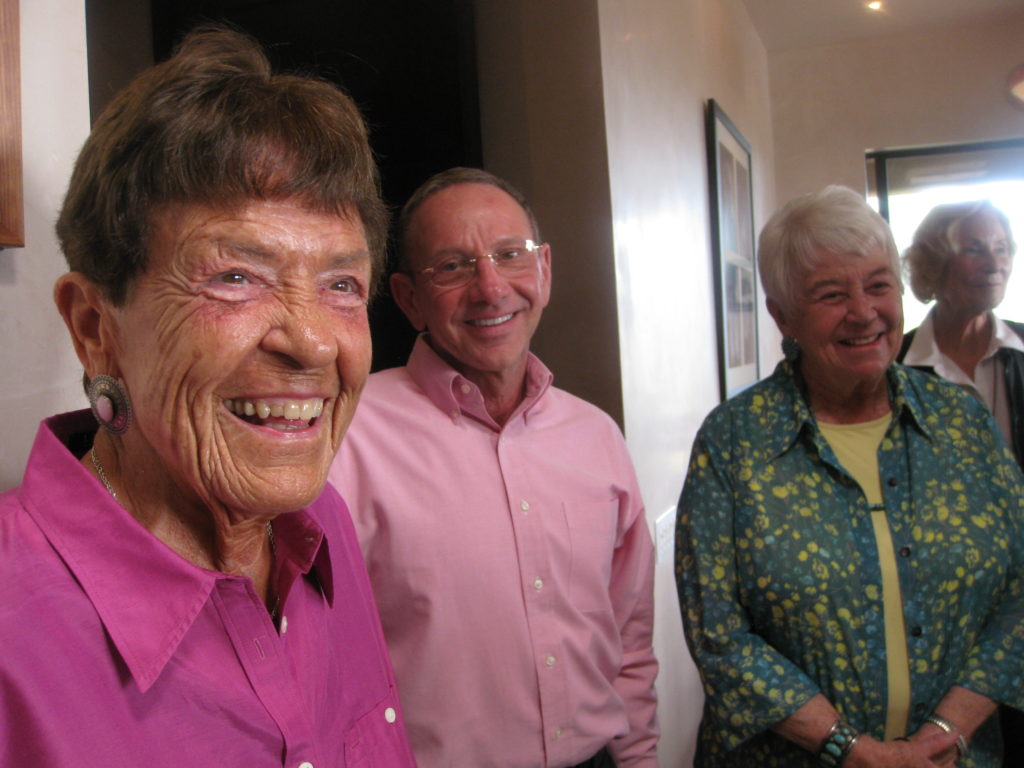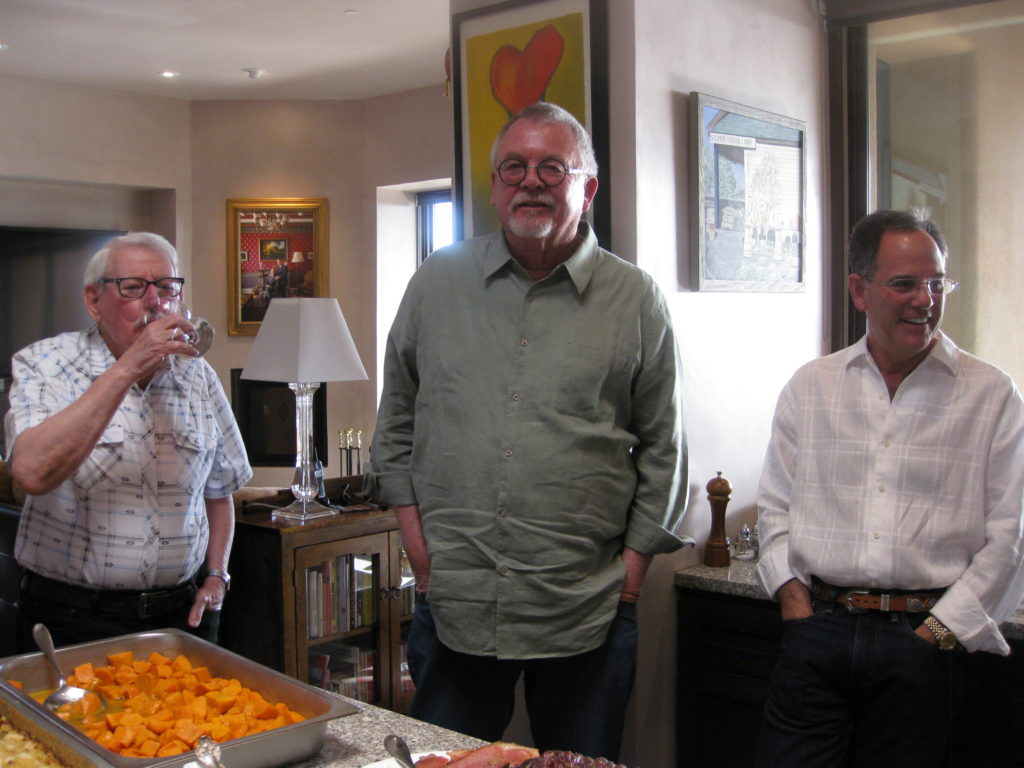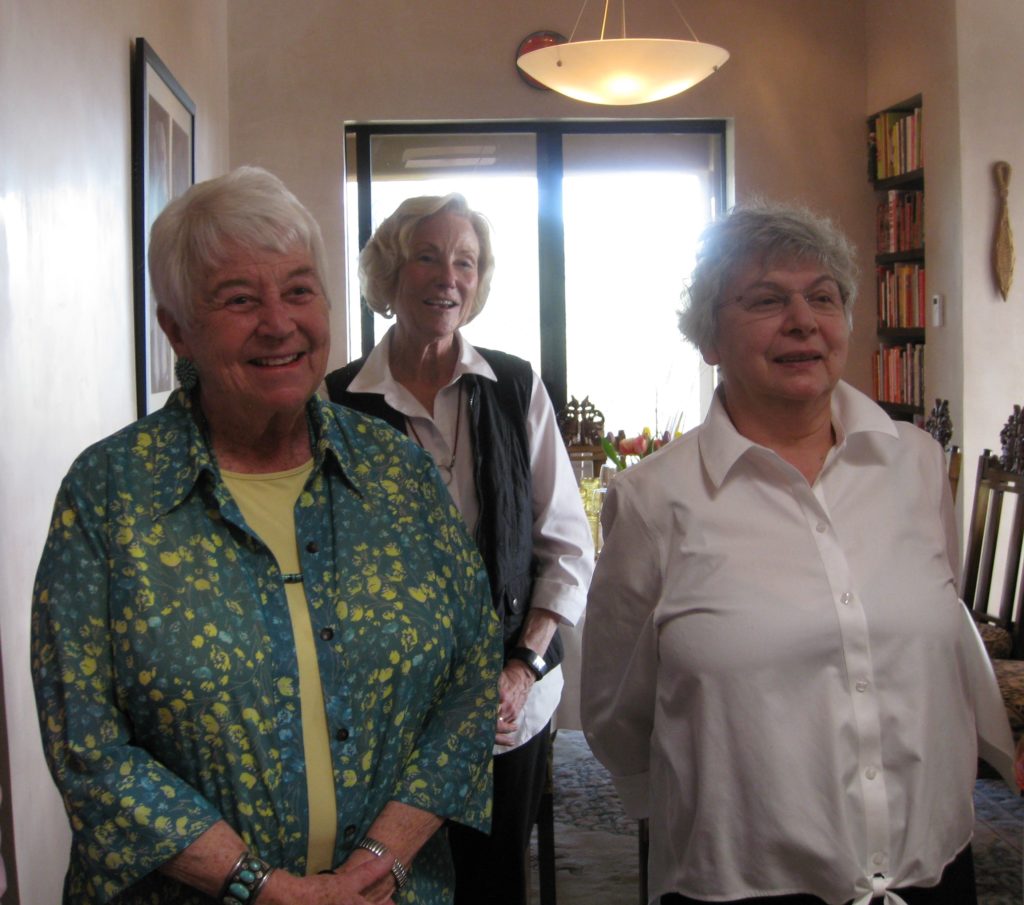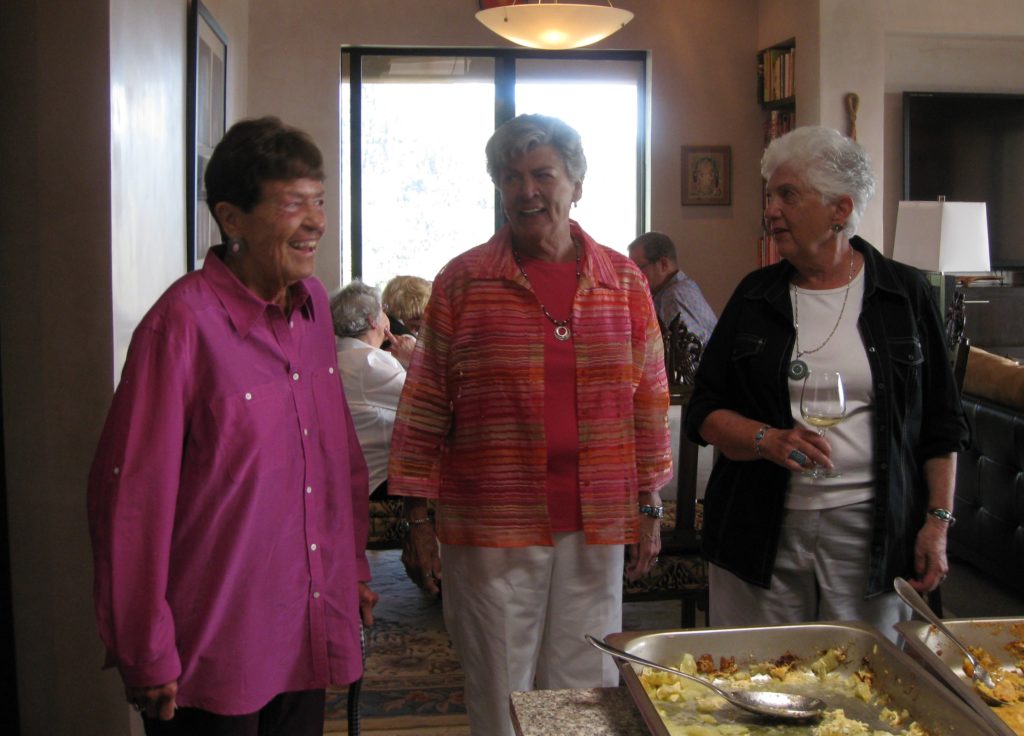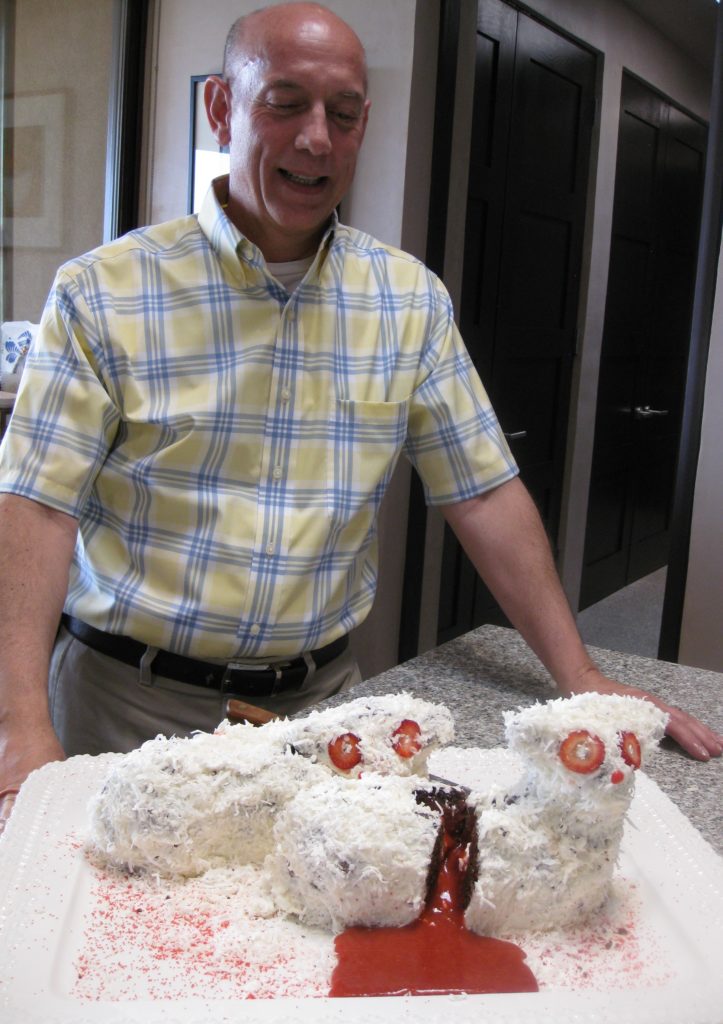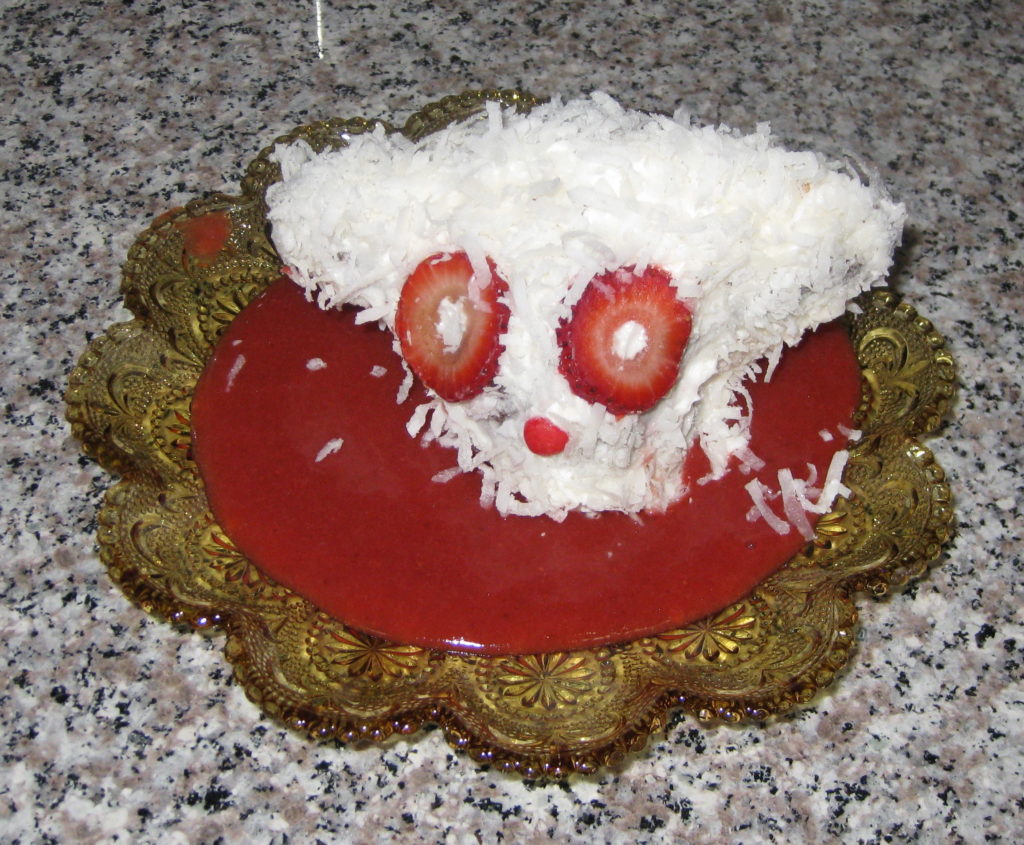 I have a couple of different types of fat separators.  One is the more common style that resembles a small watering can with a spout that draws from the bottom of the liquid.  My preferred one, however, has an opening on the very bottom.  You just pour in the liquid, allow the fat to rise to the top, and squeeze the handle.  The opening opens and out pours the fat-free liquid from the bottom.  You can find a picture of it on my equipment page.

Unless I need an absolutely clear broth, I prefer to use the pressure cooker. It gets the job done in an hour of cooking and makes a more flavorful broth than simmering it on the stove. However, the broth is somewhat cloudy. If you don't want to use a pressure cooker and you don't want to have to think about a pot on the stove, make the broth in a slow-cooker for 6-8 hours. If your pressure cooker or slow-cooker won't accommodate 3½ quarts of water, use as much as you can and then dilute the final product to 3 quarts.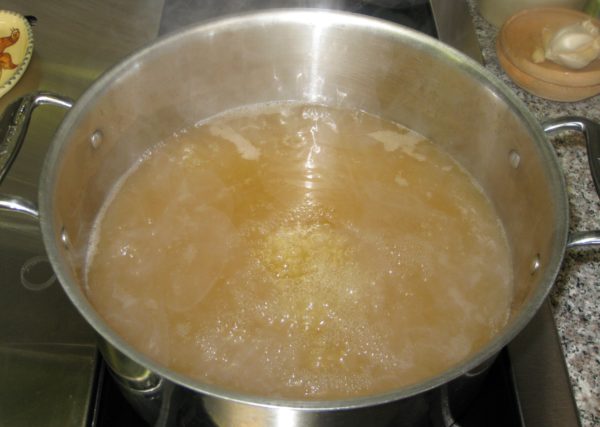 | | |
| --- | --- |
| | |
Thinly slice the carrots, celery and onion.

Combine all the ingredients in a stockpot.

Bring to a boil, reduce the heat, and simmer for 4-6 hours, stirring occasionally. Alternatively, cook at 10 pounds pressure for one hour or in a slow-cooker on low for 6-8 hours.

Because the broth will likely develop a gelatin-like quality on cooling, I suggest removing the fat using a fat separator while the broth is still warm.

Add water to make three quarts.
I never add salt to any broth that I make unless I am making it for a specific purpose and I can plan for the final product. Broth with salt can make a dish too salty if the liquid needs to be reduced. The salt in a broth can also slow down the tenderization of dried beans. This might not be much of an issue at lower elevations but at 8000 feet getting dried beans to soften can be a challenge and anything that hinders the process is to be avoided.
Copyright © 2017 by VillaSentieri.com. All rights reserved.