June 7, 2017
Baba was a favorite food in our house.  We often joked that my mother should open a shop selling pizza and baba.  We were convinced it would be a success, as were a number of family friends.
Although Johnstown, Pennsylvania, where I grew up, was originally founded by Germans (everyone, regardless of ethnic background, had sauerkraut, sausages, and pork on New Year's Day), Italians and Eastern Europeans were among the largest ethnic groups when I lived there.  So, a "fusion" shop selling pizza and baba wasn't so far-fetched!
Baba means old woman in Slovak.  I can't tell you how it came to be applied to this very specific type of potato cake and whether it was just in our family or more widespread, though I suspect the latter.
Other than the crispy skin of our Thanksgiving turkey, this is the only food my sister and I fought over.  This, however, was three-way guerilla warfare also involving my father.  Crispy turkey skin has an immediacy about it.  It needs to be eaten right away, hot and crispy, or it loses its appeal.  The fight is right out there in the open, a virtual "land grab."
Baba is different.  As good as it is freshly made, we all preferred it after a day or two.  Any leftover baba would be wrapped in aluminum foil and put in the oven, which had a pilot light way back then.  That kept it ever so slightly warmer than room temperature.  The baba would become chewy.
The natural tension that developed was between letting the baba mature till it had the optimum chewiness versus losing out entirely if someone else ate it first.
We all kept our eyes on the oven which was conveniently located at eye-level.  If it looked like the package had been disturbed, we could swing into action, grabbing what was left and eating it even if it didn't have the optimum chew.  "Any baba is better than no baba" was definitely the operative mentality.
There was always the chance, however, that the first person to go for the baba would eat all of it, especially if there were only a few pieces left.
There was also the chance (sometimes turned into reality) that someone could deftly open the package, remove a piece of baba, close the package, and put it back in the oven it in a way that made it look undisturbed.  Well implemented, this was a strategy for getting more baba since others could be lulled into complacency thinking the cache of baba was still available to them for the taking.
The ingredients of baba are pretty standard potato cake fare, potatoes, onions, salt, pepper, flour and, depending on the cook, egg.  Two things make it unusual in my experience: caraway seed and the cooking method.  To be sure, Slovaks put caraway seed in lots of foods but I have yet to find a recipe for Slovak potato cakes that contains caraway seed.
As for cooking method, baba is cooked in the oven in a rimmed baking sheet.  Remembering that my grandparents raised seven sons, who in later years were augmented by daughters-in-law and grandchildren, baba was made in large quantities.  When there wasn't enough batter to fill another baking sheet "to the thickness of your finger," as my Aunt Mary would say, the remaining batter would be turned into individual potato "pancakes" in a frying pan in shallow oil.
The proportions given here will nicely fill an 11" by 17" baking sheet.  If you prefer to fry the potato cakes rather than bake them, by all means do!

I remember watching my mother make this, and learning from her. Though it always tasted the same in the end, it seemed like the lack of precise measurements was an issue. My mother had no difficulty cooking her regular canon of Italian food without measurements. My suspicion is that the issue with Baba is that she didn't make it all that often. I make it even less often (though I think that's changing) which prompted me to carefully measure ingredients until I got a perfect batch and then stick with those measurements going forward. My mother put an egg in her Baba. My Aunt Mary did not. Aunt Mary, who lived next door to my Slovak grandparents for years, insists that Grandma never used egg. I have not tried it without the egg, being happy to stick with a recipe that works. Before food processors, the potatoes and onion were grated on the fine side of a box grater. The food processor eliminates the most tedious part of making Baba.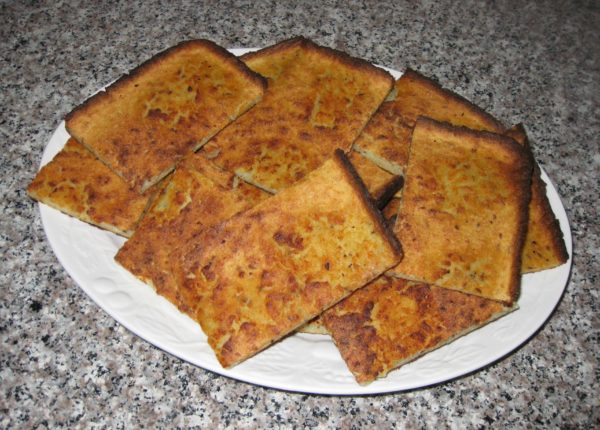 | | |
| --- | --- |
| | |
Peel the potatoes. Rinse and dry them and cut into 1 inch cubes.

Weigh out 1600 grams (3 ½ pounds) of potato cubes.

Cut onion into 1 inch chunks.

In two or three batches, depending on the size of your food processor, thoroughly grind the potato and onion, putting some potato and some onion in each batch.

Put the ground potatoes and onions into a large mixing bowl. Add the lightly beaten egg, salt, black pepper, and caraway seed.

Stir in about ¾ of the flour. Add enough of the remaining flour to thickly coat a spoon. Chances are you will need all the flour. If in doubt, just add it.

Very, very generously grease an 11" x 17" x 1" baking sheet with lard. After you think you've used enough, add more! Remember, most potato cakes are fried. These are baked. They definitely need some fat for texture.

Pour the batter into the prepared pan. Dot very generously with lard.

Bake 425°F until browned on the bottom, about 30-40 minutes, turning the pan front to back after 20 minutes.

When the bottom is brown, you'll need to flip the Baba upside down. To do this, set another baking sheet of the same size on top of the Baba. The bottom of the baking sheet should be sitting on top of the Bubba.

Flip the pans over. If you had enough lard in the pan, the Baba should release from the pan and be sitting, upside down, on the bottom of the other baking pan.

Slide the Baba back into the original baking pan with the browned bottom now facing up.

Bake another 20 minutes or so until browned on the bottom and thoroughly cooked.

Turn out of the pan onto a large cutting board.

Cut into 16 pieces. Serve warm or at room temperature.
Although you can use solid vegetable shortening in this recipe, I suggest you use lard for better taste and better health. You can find information about lard vs. vegetable shortening in this post.
Copyright © 2017 by VillaSentieri.com. All rights reserved.