December 21, 2016
Homemade cookies and pastries were staples of my childhood.  Trays of cookies showed up for holidays, celebrations, weddings, funerals, and, sometimes, for no apparent reason.
My mother along with relatives and friends set up a cookie-making operation that went on every night for weeks leading up to my sister's wedding.  The overseer was Annie Castagnola, a family friend.  She had a thin spiral-bound 3-inch-by-5-inch notebook of cookie recipes.  The notebook was the kind we used in grade school to write down our homework assignments.  Annie's recipes were a curated collection gathered from a host of "old Italian women," my grandmother included.
The little notebook was coveted by more than a few cooks.  Annie, however, did not share her recipes, even when those recipes came from relatives of the very people who were asking for them.  I know, my mother was one of those people who wanted some of her mother's recipes.  Annie wouldn't budge.  The situation got resolved, however, during the cookie-baking marathon for my sister's wedding.  One night, Annie left her little notebook at our house overnight.  Nobody's confessing, but there are a few cookie recipes in my mother's recipe box (sitting on my bookcase) written in my twelve-year-old hand.
Annie died a while back.  Her little notebook is most likely gone forever and along with it the baking secrets of a whole group of "old Italian women."
Of all the cookies that showed up throughout the year, my favorites were the various kinds of cakey cookies, my mom's Genets, Aunt Margie's aptly named "Colored Cookies," and my cousin Angie Catanese's Sesame Seed Cookies, to name a few.  These cakey cookies, which were not very sweet by American standards, were usually little balls but not always.  Genets are lemon flavored knots.  Colored Cookies are vanilla flavored balls, each made with four or five pinches of dough of different colors rolled together.  Sesame cookies are little logs, perfect for dunking into some Vin Santo.  For me, though, the best of these cakey cookies are Totos, little chocolate spice balls.

These little chocolate balls are intended to have a good kick from an array of spices. Lard is the traditional shortening to use. I render my own. If you need these to be vegetarian, or you just don't want to use lard, you can use solid vegetable shortening. Heck, you can even use clarified butter but that is way off the traditional scale!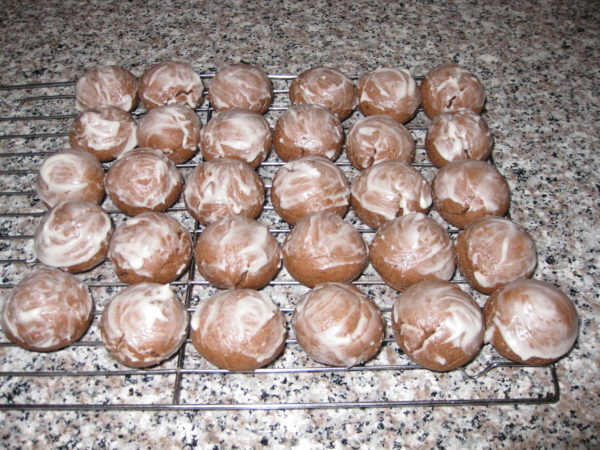 | | |
| --- | --- |
| | |
Melt the butter. Add the sugar, vanilla (or lemon) extract and 2 tablespoons of milk. Mix well. Add more milk, a teaspoon at a time, if needed, to make a thick icing that will hold its shape and spread well.

It may be necessary to add a bit of milk from time to time if the icing stiffens up over the course of icing each batch of cookies as they come out of the oven.
Check out my method for rendering lard.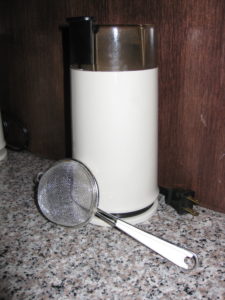 I prefer to grind my own spices using a small electric coffee grinder, except for the nutmeg, of course, for which I use a small grater. It is best to pass the ground spices through a small strainer to get out any small bits. If you don't grind your own spices be sure to buy really fresh ground ones so the flavor is vibrant.
This recipe doesn't involve any strenuous beating so the first few steps can easily be completed by hand with a sturdy mixing spoon rather than with a mixer. Similarly, after adding the dry ingredients, the dough only needs to be mixed enough to come together. This is easily (and traditionally) done with your hand though I suppose a dough hook would work, too.
Copyright © 2016 by VillaSentieri.com. All rights reserved.