May 19, 2017
It is unfathomable to me that someone could voluntarily go on a low carbohydrate diet.
Avoiding gluten, short of having full-blown celiac disease, is equally unthinkable.
All of my most favorite foods start with flour.
Some contain flour and potatoes.
Roughly in order these are Potato Gnocchi, my Slovak Grandmother's Potato Cakes and a three-way tie between Pasta (of almost any sort), Dumplings, and my Aunt Mary's Bread Rolls Stuffed with Mashed Potatoes and rubbed with garlic and oil.
Of those five foods, the only one I get on a regular basis is pasta.  I have pasta 3 or 4 (or 5 or 6) times per week.  I could probably have it every day and never tire of it.  A few days without pasta and I begin to have serious cravings.
Until just recently, I had a frenetic travel schedule for work.  One of the first things I would do upon landing in a city that I was likely to return to over and over for work was to find a really good restaurant, preferably an Italian restaurant or one with a goodly number of Italian dishes on the menu.  Failing that, I would look for a restaurant with an ingredient-driven menu that was not into precious or pretentious presentation!
Sometimes finding that restaurant was elusive and my pasta cravings would be in full swing by the time I got home.
Over the years, my mother-in-law has learned that the best thing she could make for dinner on a day when I'm returning from a trip is pasta.  Even if I'm not having pasta withdrawal symptoms, there are few foods that I would rather have.  Actually, there's only one:  gnocchi, which truth be told, is just the Italian word for dumpling, which as you've noticed is on my list in its English form, too!
Sometimes the restaurants I'd find were so spot-on perfect that I would just work my way down the menu over successive trips.  In this category are the recently closed Dish Osteria in Pittsburgh, Bari Ristorante in Memphis, Antico in Chicago, and, until the recent change in the menu, Tre Soldi in Chicago.
Sometimes I'd find a chef whose cooking I really enjoyed, as happened with Bruce Bogartz in Knoxville a number of years ago.  My business partner and I followed Bruce through at least three different restaurants.  Sometimes we'd just walk in and sit down and Bruce would come over and say: "Can I just cook for you this evening?"  That would be the sum-total of ordering.
Sometimes my business partner and I would find a restaurant that would accommodate our cravings as happened in Harrisburg, Pennsylvania.  We'd usually get to the restaurant late on the day we came into town.  After a few trips, we got bold and asked for something that wasn't on the menu.  Something simple.  Something Italian.  As I recall it was spaghetti with anchovies, garlic, olive oil and red pepper.  The chef accommodated us.  From then on, at least once during every trip to Harrisburg we asked for the same thing, sometimes we'd mix it up by asking for a bit of fennel seed to be added.  A salad of arugula with olive oil and lemon juice always rounded out the meal.
While it's easy to find pasta on restaurant menus, it's pretty difficult to find dumplings unless you're in a dumpling culture like Eastern Europe.
After two trips to Prague, I discovered that it was basically impossible to just order dumplings.  I frequently found myself ordering some sort of "Hunter's Plate" which had an array of cooked meats and, you guessed it, dumplings.
I ate the dumplings first.
Dumplings are a breeze to make.  And don't even think about packaged baking mix.  (For the reasons why, see my post about hydrogenated fats.)
Unless you are seriously trying to avoid carbohydrates or gluten, give these a try.  They honestly take less than 10 minutes to whip up.  You could get a serious paper cut opening up a box of Bisq…er, biscuit mix, in less time!

In order for the dumplings to cook properly, they need to be placed on top of food that is just submerged in the cooking liquid. A little bit of the dumpling will sink below the liquid but, basically, the dumplings should sit on top of the food and steam, rather than boil in the liquid itself. Growing up, the "food" below the dumplings was often kielbasa and sauerkraut. For this post it was turkey with mushrooms and peas in a light cream sauce due to the presence of leftover roast turkey in the fridge. Stir the contents of the pot before adding the dumplings as you won't be able to do it afterwards. Prior to adding the dumplings, be certain that the heat keeps the liquid at a steady low boil with the lid tightly on the pot.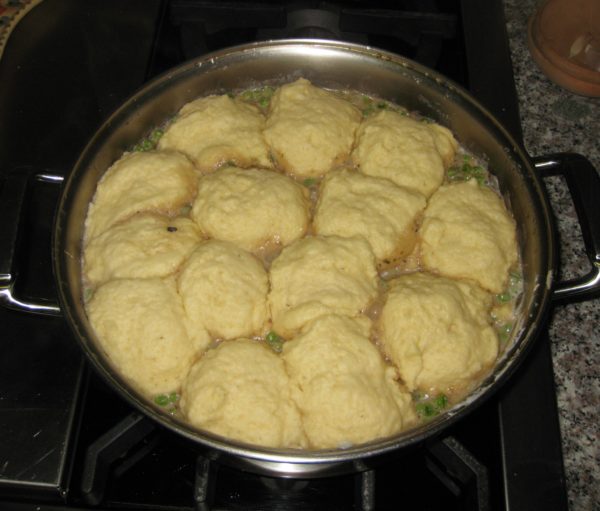 | | |
| --- | --- |
| | |
Lightly beat the egg and ¼ cup of milk. Reserve.

Whisk together the flour, baking powder and salt.

Using a pastry blender, cut the butter into the dry ingredients until there are "lumps" no bigger than flakes of oatmeal.

Make a well in the center of the flour mixture. Add the beaten egg-milk mixture.

Using a fork, gradually incorporate the flour into the liquid by starting in the center of the bowl and stirring in a circular manner, gradually widening the circle to incorporate more and more of the flour.

When the batter will not incorporate more flour, add a few tablespoons of the remaining milk.

Continue stirring and adding milk a few tablespoons at a time, until all the flour is incorporated and you have a fairly stiff but still somewhat sticky batter.

Drop by rounded tablespoonsful on top of whatever you're cooking in the liquid, such as sauerkraut, pot pie, etc.

Cover tightly and cook 20 minutes without opening the lid. The contents of the pot should stay at a steady, low boil.

Carefully scoop the dumplings onto a serving platter.
Copyright © 2017 by VillaSentieri.com. All rights reserved.