January 27, 2017
Growing up, pasta was almost always served with a long-cooked Southern Italian ragu.  Yes, there was the occasional sauce of vegetables sautéed in olive oil till they softened enough to make a sauce but those sauces were the exception to the rule.
These days, a long-cooked ragu is still the epitome of pasta cooking for me but far more often I make quicker sauces.  Pasta with mushrooms is one of them.
In my last post, I introduced nepita, an herb used in Italy that is really not commonly available in the US.  Nepita pairs really well with mushrooms.  The nepita that I use is from plants that we grow from seeds we brought back from Italy in 1996.  I'm so concerned that one day our nepita won't make it through the winter and reappear in the spring that we've taken to backing it up the way other folks back up their data.
Over the years we've gifted nepita plants to friends who like to garden.  Should a disaster ever befall our nepita, there should still be a clone of it somewhere with enough seeds that we can germinate another plant or two.  For an herb that I've only known for 20 years, it's become an integral part of my kitchen.
While there's no real substitute for nepita, there are lots of herbs that go well with mushrooms.  In this rendition, I've called for basil and oregano, the combination that I usually use when I don't have nepita.  Marjoram also works well, with or without a pinch of thyme, but marjoram is a relatively uncommon herb in Italian cooking.
Herbs are not a major player in this dish.  Though nepita is distinctive, there are so many layers of flavor from the dried porcini, onion, garlic, and marsala that the lack of nepita isn't really a big deal.  Basil and oregano work well and, in fact, are what I used before that 1996 trip to Tuscany where I discovered nepita.
Pasta ai Funghi was one of the courses I served at my father-in-law's birthday dinner last week.  Here are a couple of pictures of that dinner from our home in Palm Springs.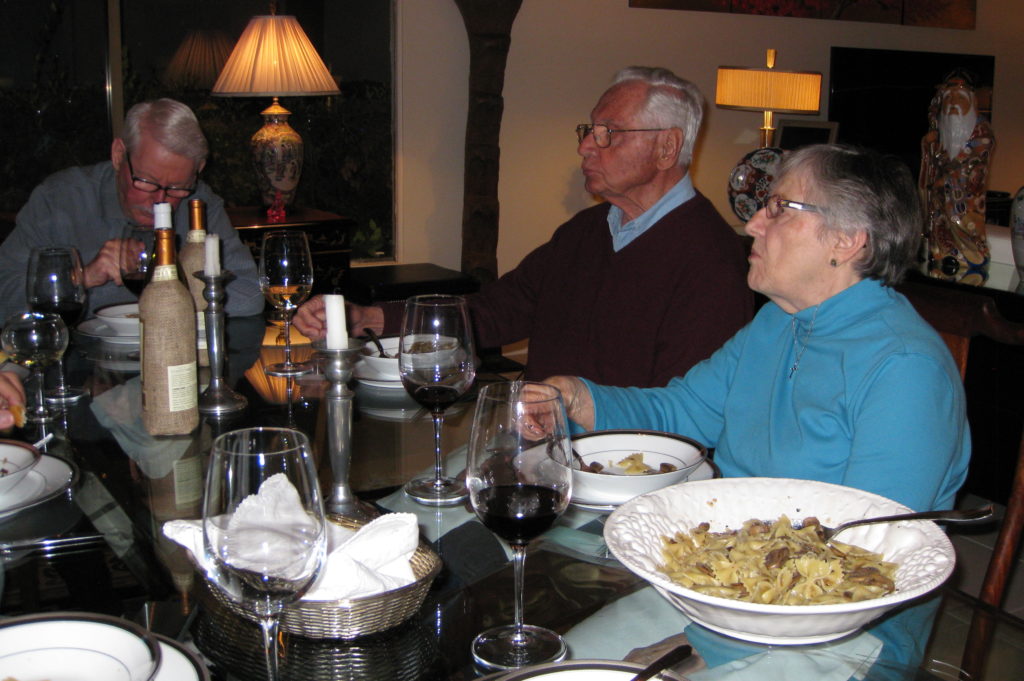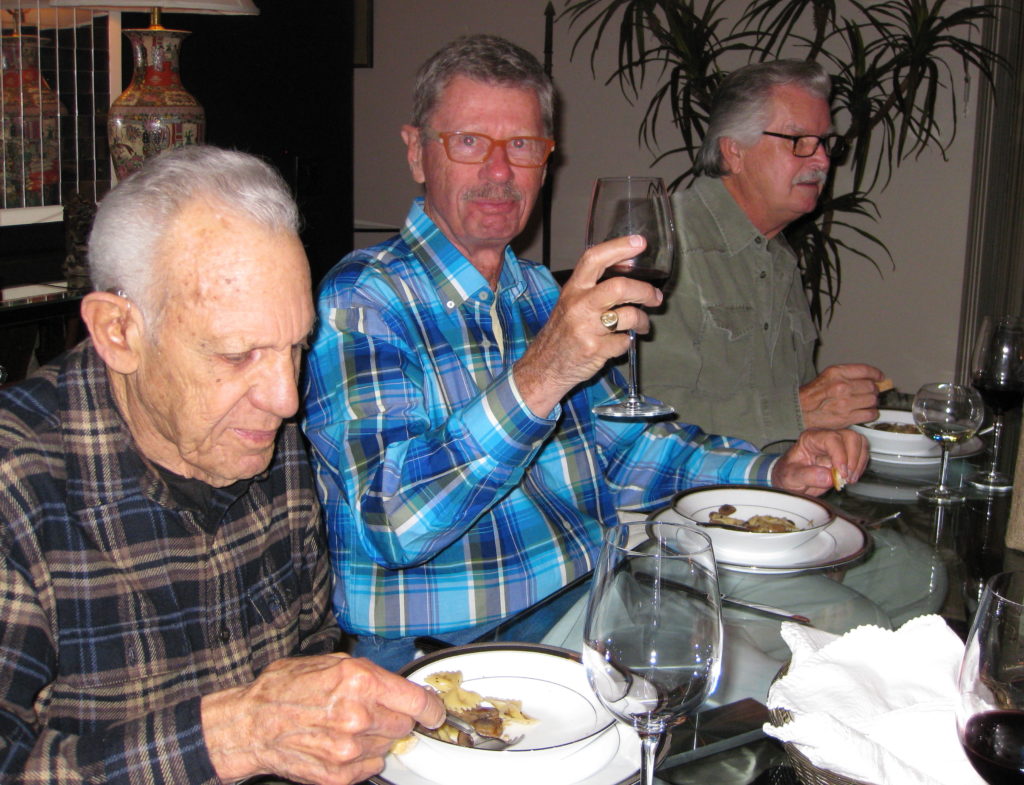 While many mushroom-based sauces for pasta contain cream and butter, this one uses only olive oil. It creates a beautiful, glossy sauce. The mushrooms can be prepared several hours in advance making this an ideal dish if you are cooking for company.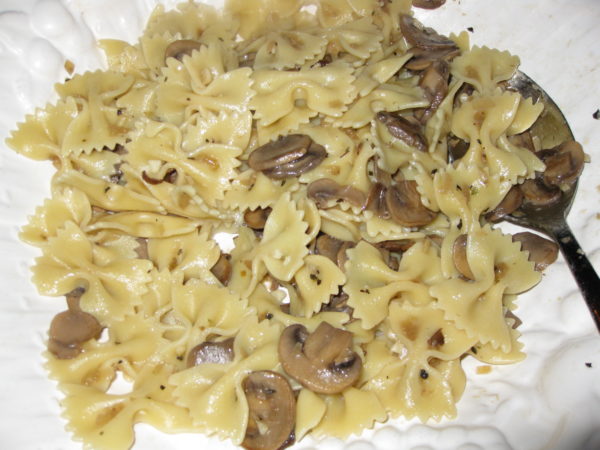 | | |
| --- | --- |
| | |
Soak porcini in enough warm water to just cover. When soft, about 15 minutes, squeeze excess water out of the mushrooms. Reserve the liquid. Finely chop the porcini.

Clean the mushrooms by wiping them with a damp cloth.

If you are using common white mushrooms, slice off the very bottom of the stem as it is usually a bit dry. There is no need to remove the rest of the stem, though.

Turn each mushroom upside down and cut into 1/8 inch thick slices. If the mushrooms are really large, you might have to make a crosswise cut as well.

Slice or cut other mushrooms into similar sized pieces. For example, cut large portobello mushrooms into long strips approximately 1/8 inch thick and then cut each strip into smaller pieces.

If you are using oyster and/or enoki mushrooms cut them into slightly larger pieces and keep them separate as they require less cooking than most other mushrooms.

Finely chop the onion and reserve.

In a sauté pan large enough to hold the mushrooms and cooked pasta, heat the ¼ cup of olive oil, over high heat. When the oil is hot, add the finely chopped porcini. Sauté a minute or two until the porcini becomes aromatic, being careful not to burn them.

Add the reserved porcini soaking liquid. Over high heat, quickly evaporate the liquid, stirring often.

Once the liquid is evaporated, add all the cut-up mushrooms to the sauté pan, except for quick cooking types like enoki and oyster mushrooms. Sauté the mushrooms, still on high heat, stirring often until they have absorbed all the olive oil.

Season liberally with salt and reduce the heat to medium low.

Stir the mushrooms often until they begin to release their liquid. When they do, turn the heat to high and cook until all the liquid is evaporated, stirring often. Add freshly ground black pepper to taste.

Continue sautéing the mushrooms until they just begin to brown. Now is the time to add any quick-cooking varieties of mushrooms, such as oyster and enoki, you may be using.

Continue to sauté until of the mushrooms are nicely browned.

When the mushrooms are brown, add the onion and crushed red pepper.

Over medium heat, cook until the onion is soft and golden.

Stir in the garlic and sauté for about one minute until it becomes fragrant.

Stir in the oregano and basil, or, if you are lucky enough to have a stash, about 1 teaspoon of fresh nepita or ½ teaspoon of dried. Add the marsala. It will evaporate almost immediately.

Remove the sauté pan from the heat until the pasta is ready. The mushrooms can be made several hours ahead to this point.

Cook the pasta in well-salted water until al dente. Meanwhile gently warm the mushrooms if they were made ahead.

When the pasta is cooked, remove about 1 cup of pasta-cooking liquid and reserve. Quickly drain the pasta. Do not rinse. Add the pasta to the warm mushrooms along with about ¼ cup of the reserved pasta-cooking liquid. Cook over low heat, stirring often for about one minute.

Remove the pasta and mushrooms from the heat. Add the Parmigiano Reggiano cheese and stir to combine. Add 2 tablespoons of extra virgin olive oil and the truffle oil, if using. Stir to combine. The cheese and the starch in the pasta cooking liquid should help to emulsify the olive oil and water, creating a glossy sauce.

If the pasta is too dry, add more pasta-cooking liquid, just don't make it watery. The cheese, olive oil and water should hold together.

Taste and adjust seasoning, if needed.

Serve immediately, preferably in warmed pasta bowls. Pass additional freshly grated Parmesan cheese at the table.
I most often make this with ordinary white button mushrooms, especially if I am going to add the truffle oil. Using an array of different mushrooms, such as cremini, baby bella, oyster, and enoki makes a visually and texturally interesting dish, however.
When I make pasta, I always pour some of the pasta-cooking liquid into the serving bowl to warm it.
Copyright © 2017 by VillaSentieri.com. All rights reserved.