June 16, 2017
Just last week my mother-in-law breaded and quickly pan-fried pork chops for dinner.  They were tender, juicy and truly wonderful.
Now that grilling weather has finally reached Santa Fe, we'll have pork chops quickly cooked on the grill throughout the summer.  I'll even grill the occasional pork tenderloin seasoned with olive oil, garlic, lemon juice and rosemary.
I really enjoy juicy, quickly-cooked pork.  However, I also really, really enjoy the style of pork chops that I at while growing up:  thin-cut pork chops cooked slowly in a sauté pan until they are deep brown.
No doubt, this is an entirely different dish from cooking the chops just enough to reach that "magic" temperature of 140°F that the USDA says is "safe."  It won't be to everyone's taste (what is?) but in the interest of presenting an array of very traditional dishes I'm including it.
Just a few nights ago while in Palm Springs, I was served thick-cut braised pork chops cooked by a good friend, John O'Malley, following a recipe from Marcella Hazan.  I use the same recipe from Marcella when I want to cook thick-cut chops for company (ever since John turned me onto it a while back).
Marcella was from Northern Italy, my mother's family from far Southern Italy, but the two dishes share a style that highlights a common feature of traditional Italian cuisine.  That is, a cut of meat that could be cooked quickly is, instead, cooked slowly coaxing out more flavor and changing the texture in the process.
The realization of the similarity of these two dishes is like the experience I wrote about in April 2017 describing roast chicken I ate in Tuscany that tasted, for all the world, like the falling-apart roast chicken seasoned with garlic and rosemary that my mother made.
Quick cooking is just one style but reading contemporary recipes one would think it's the only way to cook many cuts of meat.  We all agree that there are cuts that must be cooked long and slow for optimum texture: think Southern Pulled-Pork Barbecue, Hawaiian Roast Pig, Beef Brisket, or Pot Roast, for example.  I challenge you to find a contemporary recipe for roast chicken or sautéed pork chops that doesn't call for the minimum cooking time and final temperature.  It's as if we've forgotten that these meats can also be cooked low and slow for a qualitatively different dish.
Recording this kind of diversity traditional foodways is one of my main goals for this blog.
As I describe on the About page of this website, I've had the very good fortune to cook alongside incredible cooks from many different parts of the world but even that only begins to scratch the surface of traditional foods.  And while I've got recipes planned well into next year, I think it's time to bring in other voices, other stories.
From time to time I am going to feature a blog post, and accompanying recipe, based on interviews with folks who have chosen to share a treasured family recipe and a story to go along with it.  There are several individuals who have volunteered to be in the vanguard of this effort.
If you have a family recipe that you'd like to share, send me an email or add a comment and I'll follow up.
Click HERE to join our mailing list and you'll never miss a recipe again!

If these chops are being served as part of an Italian-style meal, preceded by pasta, rice or soup, and accompanied by several side dishes, one per person should be enough. Without a pasta course, an average eater could easily consume two of these and someone with a hearty appetite could eat three or four! A sauté pan with a very heavy bottom is needed to avoid hot spots. The chops will be cooked on low heat for most of the time and it is important that the pan conduct the heat well to avoid hot and cool spots for optimum browning. I prefer center-cut pork loin chops, these have a bit of loin and a bit of tenderloin, essentially the same cut as a T-bone steak. Loin chops (without the tenderloin), as shown in the pictures, work well too.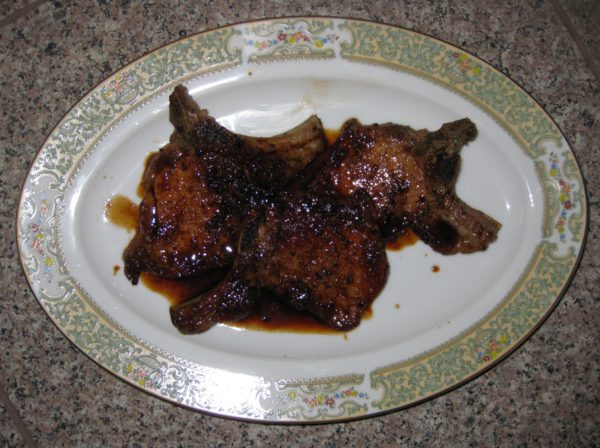 | | |
| --- | --- |
| | |
Season the chops generously with salt, pepper and garlic powder.

Using a sauté pan that has a very heavy bottom and that is large enough to hold the chops without crowding, heat the oil until it just begins to smoke over high heat.

Add the chops and reduce heat to medium high.

Cook the chops, undisturbed, until nicely browned, approximately 2 minutes.

Turn the chops over. If the oil was very hot when the chops were added and if you didn't disturb them while they browned, they should easily release from the pan without sticking.

Brown other side. Approximately 2 minutes.

Turn the chops over. Have the cover ready. Add the wine, immediately cover the pan, and turn the heat to low.

Cook, covered, until the wine evaporates, 15 minutes more or less.

After the wine evaporates the pan juices will start to brown. When they do, add 2-3 tablespoons of water and turn the chops over. Cook, covered, until the water evaporates and pan juices get a little bit darker.

Repeat this process until the chops are falling apart tender and the pan juices are a deep brown. This will take 1 ½ to 2 hours.

At the end there should only be a couple of tablespoons of water plus the oil in the pan. Pour this sauce over the chops when serving. It should have a rich umami porky flavor.
I rarely use garlic powder. The dishes for which I consistently use garlic powder instead of fresh garlic are Italian slow-roasted poultry, the pork chops featured in this recipe, and steaks. I find that I just can't get the flavor that I want from fresh garlic in these instances.
Copyright © 2017 by VillaSentieri.com. All rights reserved.