December 11, 2017
When I was young, cookie season started in mid-December and continued until early January. Friends and family all had platters and trays of cookies on their tables, often of the multi-tiered variety. Each was carefully wrapped in plastic ready to be unwrapped when guests arrived. The platters were replenished after each group of guests left.
In my circle of family and friends, cookies usually fell into one of two categories, Italian-American or Slovak-American.
To be sure, there was some crossover.
---
Click HERE to follow us on Twitter
---
Nut rolls and poppy seed rolls are Slovak (well, OK, they're really pretty much pan-Eastern European but since I grew up in a half-Slovak family we considered them to be Slovak even though we knew they were also made by the Poles, Ukrainians, Slovenians, and other Eastern Europeans in town) but they were made by the Italian side of my family as much as by the Slovak side.
There were also nut horns, butterballs, and thumbprints which defied ethnic baking boundaries.
However, flat, rolled cookies, like these butter cookies, were not usually made by Italian-Americans.  The totos that I wrote about last December and the colored cookies that are coming up later this week were not usually made by Slovak-Americans.
---
Click HERE to join our mailing list and you'll never miss a recipe again!
---
This recipe came to me by way of Aunt Ann who was married to my father's brother, Jano. She said it was Grandma's recipe.
I remember eating these cookies and seeing them piled on my grandmother's table over the holidays.
These cookies are similar to the sand tarts that are common in the central part of Pennsylvania where the Pennsylvania Dutch, of German extraction, historically lived. The big difference, though, is that the dough for these butter cookies is prepared more like a pie crust while the dough for sand tarts is prepared more like cake batter. That is, for these cookies, flour and sugar are cut into butter with a pastry blender whereas for sand tarts the butter and sugar are first creamed together.
There also are sand tarts that I think of as more Southern.  These are usually rolled into balls or formed into shapes and baked but not rolled thin like Pennsylvania Dutch sand tarts and my grandmother's butter cookies.
---
Follow us
The cookies should just be pale golden brown on the bottom. The color and weight of the cookie sheet significantly influence cooking. I find that shiny aluminum cookie sheets of medium weight work best. Dark metal will cause the bottom of the cookies to brown too much. Allow the cookies to rest for about 30 seconds before removing them from the cookie sheets. If you wait too long the cookies will lose their flexibility and are likely to break.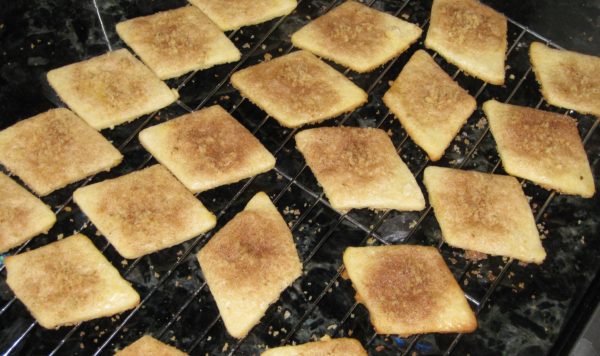 | | |
| --- | --- |
| | |
Combine cinnamon and three tablespoons sugar. Reserve.

Grind the walnuts and reserve.

Put the butter in a mixing bowl and leave at room temperature for about 30 minutes to soften slightly.

Add 1 cup of sugar and flour to the butter.

Mix with a pastry blender until little beads form.

Add the cream and egg yolks and continue mixing with the pastry blender until a shaggy dough forms.

Press into a log, cut in half (or quarters) and wrap in plastic wrap and refrigerate for 30 minutes.

Roll a portion of dough between sheets of waxed paper to approximately 1/8 inch thick.

Arrange on ungreased cookie sheets.

If the dough starts to warm too much it will be difficult to get the cookies off the waxed paper. If this happens, put the rolled out dough, still between the waxed paper, in the refrigerator for a few of minutes.

Brush with unbeaten egg whites.

Sprinkle with ground walnuts

Sprinkle with cinnamon sugar.

Bake 350°F approximately 8-9 minutes or until light brown on the bottom.

Remove from the cookie sheet almost immediately and cool on a wire rack.
Copyright © 2017 by VillaSentieri.com. All rights reserved.