January 13, 2017
The word sformato in Italian means deformed or shapeless.  When applied to food, standard Italian-English dictionaries often translate it as pie or soufflé. It is none of the above.
A sformato is most definitely not deformed or shapeless.  In fact, a food historian described a sformato as "something that was cooked in the mould [sic] and then extracted from it" (Alexandra Grigorieva, Naming Authenticity and Regional Italian Cuisine in Authenticity in the Kitchen: Proceedings of the Oxford Symposium on Food and Cookery 2005, edited by Richard Hosking).  Nor is a sformato really a pie or a soufflé as those terms are usually used.  It has no crust of any sort, as would a pie.  It is not puffy like a souffle.  Sometimes it doesn't even contain eggs.
A sformato is most often made of vegetables, usually bound with some combination of eggs, cream, cheese, and/or béchamel (balsamella in Italian), and cooked in a baking dish.  I think the best English translation of the word is casserole.
Sformato di Spinaci, spinach sformato (or, reluctantly, spinach casserole), is one of those dishes that has iconic status in my husband's family.  Like Merluzzo in Umido, the recipe came from Italy with his grandmother whom we called Nonni.  Nonni is one of those made up words that sometimes take hold in a family based on mispronunciations of little kids.  The Italian word for grandmother is Nonna.  However, Nonni is to Nonna as Gramma is to Grandmother.
Just as Pasta Ascuitta has only one meaning in my family, Sformato has only one meaning in my husband's.  If you simply say "sformato," everyone knows you mean spinach sformato, and not, for example, cauliflower sformato.
I first had sformato at Christmas Dinner at my in-law's house in 1989.  Although I had been cooking northern Italian food since 1973 based largely on Marcella Hazan's wonderful cookbooks, that Christmas was really the beginning of my learning to make some of my husband's family's northern Italian favorites.  It's really a whole different taste profile from the southern Italian dishes I grew up with.
I've actually taken a heretical twist with my interpretation of Nonni's sformato. I've added a little balsamella for moisture. This was most definitely not in the original, though it is not an uncommon addition to sformato. If you want to make the original version, just leave out the balsamella.  It will be a little drier.  You might want to not squeeze the spinach quite as tightly if you don't include the balsamella.

Nonni always made this with ground beef but Italian sausage, casing removed and crumbled, works really well (a bit of southern Italian heresy creeping in!). It can also be made without meat, but the amount of spinach should be increased by an additional 10 oz. to a total of 30 oz. I have occasionally used fresh spinach but, honestly, frozen chopped spinach works just fine. I doubt you could reliably tell the difference in a side-by-side comparison of fresh vs. frozen spinach in this dish.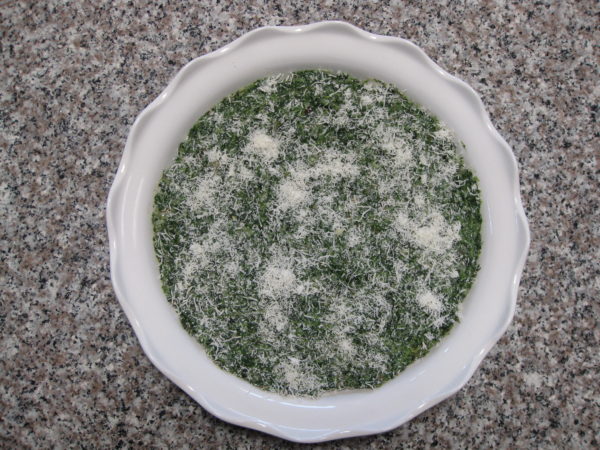 | | |
| --- | --- |
| | |
Cook the frozen spinach in a heavy bottomed sauce pan tightly covered until thawed, breaking up the spinach from time to time.

As soon as the spinach is thawed, pour the contents of the pan into a fine mesh sieve and allow the spinach to drain and cool.

When the spinach is cool enough to handle, squeeze small handfuls of the spinach to remove excess water.

Cut through the mass of squeezed spinach about eight or ten times with a knife then rub it through your fingers to loosen it. It will be pretty tightly wadded up from squeezing out the liquid.

Brown the ground beef or sausage in olive oil over medium heat. You want to get some really browned bits of meat for the flavor. Don't make the mistake of just cooking the meat until it is no longer pink.

When the meat is nicely browned, add the onion and cook until golden and soft. Add the garlic and sauté until fragrant, about 1-2 minutes.

Combine the meat mixture and spinach in a large mixing bowl. Season with salt and pepper and allow to cool briefly.

Meanwhile, make the breadcrumbs by removing the crusts from a slice of two-day old home-style white bread. Tear the bread into pieces and whiz in a food processor until processed into evenly sized crumbs. Reserve.

Melt the butter and toss with the breadcrumbs. Reserve.

Make the balsamella (see directions below).

Add the balsamella to the cooled meat and spinach mixture. Stir well, loosening up the spinach. When well combined, stir in the eggs. Be certain that the mixture is not so hot that it cooks the eggs.

Reserve two tablespoons of the Parmesan cheese and mix the remainder into the spinach-meat-balsamella mixture.

Pour the spinach mixture into a buttered 9-inch round or 8-inch square baking dish. Sprinkle top with the buttered crumbs and reserved Parmesan cheese.

Bake at 350°F for approximately 60 minutes or until golden brown.

Cool about 10 minutes before cutting and serving.
Heat the milk in a small heavy-bottomed saucepan until bubbles begin to form around the edges. Do not bring the milk to a boil.

Meanwhile, melt the butter in a saucepan and add the flour when the foam subsides. Cook for several minutes without browning.

Add the milk, approximately two tablespoonsful at a time, mixing well after each addition. Adding the milk in small amounts should allow you to stir out any lumps before adding the next bit of milk.

After all the milk has been added, bring to a boil and cook for one minute, until thickened.

Remove from the heat and stir in the nutmeg.
This recipe doubles well.  If you want to cook a double recipe in a single pan, use a 9-inch by 13-inch baking dish.  Bake at 325°F rather than 350°F as it will brown too much around the outside before the inside is cooked.  If necessary, raise the heat to 375°F at the very end, and put the sformato on the top shelf of the oven, to brown the top.
If you want to use fresh spinach, use 2 pounds instead of the 20 ounces of frozen spinach.  Remove the stems.  Wash the spinach, shaking off most of the water.  Put the spinach in a heavy-bottomed Dutch oven with just the liquid clinging to the leaves.  Cook covered, over medium heat till fully wilted.  Drain and proceed as above with the exception that you will need to do much more chopping of the cooked and squeezed spinach than the eight to ten cuts suggested above.
Copyright © 2017 by VillaSentieri.com. All rights reserved.