June 2, 2017
The weather is turning warmer in fits and spurts here in Santa Fe as I write this in early-May.  I'm writing these posts a few weeks in advance due to upcoming travel.  Warm days and cold nights, alternating with cold days and colder nights make me think of soup.  Filling, warm, humble soup.
There are few soups that I like better than bean or lentil.
Although a ham bone is a classic way to start a bean soup, smoked turkey works well too.  I had a smoked turkey carcass in the freezer from a bird that I smoked a few months ago.  That and the combination of the cold weather made me think of making this classic American bean soup.  It made a really great dinner along with a platter of my grandmother's potato cakes, the recipe for which will be appearing here in a few days.
This soup is assembled from very basic ingredients, many of which are almost always on hand.
With warm weather approaching, however, this will probably be the last time I serve such a hearty soup until autumn.
Which brings up an interesting topic: the effect weather has on our cooking and eating habits.  We tend to gravitate toward heartier, richer foods in the winter and lighter foods in warm weather.  Our caloric needs don't really change appreciably from winter to summer so if we're not gaining or losing weight, we're probably eating about the same number of calories.  But it often doesn't feel that way.
Eating seasonally is a good strategy for a number of reasons.  Locally grown, in-season, produce tastes better than produce shipped from far away.  Many fruits and vegetables start losing nutrients as soon as they are picked.  The shorter the time from farm field to table the more nutritious they are.
Did you ever think about what it takes to have "not from concentrate" orange juice available all year given that oranges are a seasonal crop?  Take a look here and here.  It will give you a sense of what is done to our industrialized food supply.  To be sure, we have ready access to more and cheaper food than has probably ever been the case in human history.  I'm not suggesting we abandon that, just that we become better informed consumers and make active choices about what we eat and why.
In addition to tasting better, and being more nutritious, eating seasonally brings back a sense of anticipation and, dare I say, romance, to eating.  Tomatoes are at their best in the summer so we eat lots of tomatoes then, for example.  Often times, lunch on Saturday in late summer will be thick slices of fresh tomato, fresh mozzarella cheese from The Old Windmill Dairy in Estancia, New Mexico, a few torn basil leaves from our garden, a sprinkle of salt and a drizzle of extra virgin olive oil along with some homemade bread to sop up all the juices.  Unless it's from a can and going into something that's cooked, you'll rarely see a tomato in my kitchen the rest of the year.
The same sort of anticipation holds true with many other foods.  Some that come quickly to mind are zucchini blossoms (which I dip in batter and fry) and basil (which I turn into pesto and use to season quick-cooked tomato sauces all summer long but never use at other times of the year).
Seasonal eating isn't limited to summer, however.  There are traditional winter crops and winter foods.  Cavolo nero, Tuscan kale, tastes better after a frost and is traditionally eaten in the late fall.  My mother-in-law pickles turnips each autumn which we eat in the winter made into a thick soup with cotechino, a Northern Italian sausage.
Traditionally, my mother-in-law's pickled turnips would be made in the autumn.  That's not only when the turnips are ready if you eat seasonally but that's also when grapes are crushed and pressed for wine.  The turnips would be packed into a barrel with the solids left over from the grape pressing and allowed to ferment.  These days she makes a reasonable facsimile by simply pickling turnips in red wine vinegar though I keep hoping to find a winemaker in New Mexico who will sell me some crushed grapes to give the original recipe a try.
Red wine vinegar is always available, and mostly so are turnips.  Why don't we make this at other times of the year?  Mostly it's because of the association of pickled turnips (brovada) and cotechino with winter.  We try to maintain the seasonality even when we have the ability to circumvent it.  Doing that means there are always favorite foods to look forward to each season that we haven't had in almost a year.
If it's too warm where you live to have a hearty bowl of bean soup, tuck this recipe away for a few months and give it a try in the autumn.

This white bean soup is easy to make and very nutritious. If you have the carcass of a smoked turkey or the bone from a baked ham, use my recipe for Roasted Turkey Broth, substituting the smoked turkey or ham bone, to make the broth for this soup. With a turkey carcass you definitely need to make broth otherwise you'd have lots of bones and bits in the final soup. While this isn't the case with a large ham bone, I still prefer to make broth in advance so that I can skim off the fat. There is a link in the notes that follow this recipe to my recipe for Roasted Turkey Broth. Even if you don't have a smoked turkey carcass or a ham bone you can make this soup. My supermarket sells various smoked turkey and pig parts. Just use them to make the broth. Be careful, though, as these products can be much smokier than a turkey or ham that was smoked to the right degree for eating. Failing all of that, use whatever broth you have on hand (or even water) to begin to cook the beans then add ¼ pound of chopped up bacon with the remaining ingredients.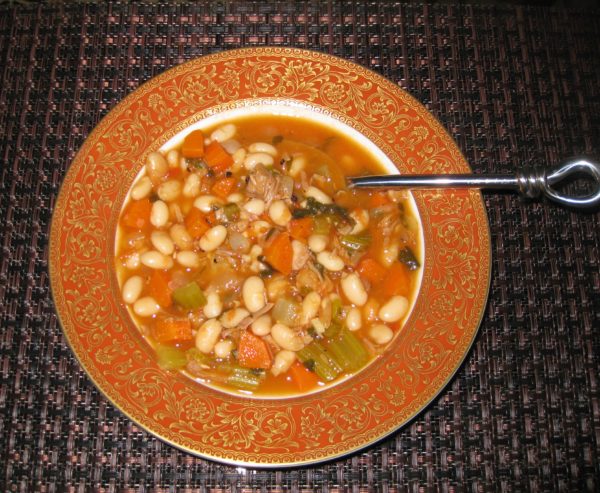 | | |
| --- | --- |
| | |
Wash the beans. Cover with several inches of cold water. Refrigerate overnight.

The next day, drain the beans.

Combine the beans, broth, and bay leaf.

Cover and bring to a boil.

Cook, partially covered, at a medium boil for one hour, stirring occasionally.

Meanwhile, prepare the other ingredients.

Slice the carrots in quarters lengthwise.

Cut the carrots crosswise into 1/4 inch pieces.

Cut the celery into strips approximately the same size as the carrot strips.

Cut the celery strips crosswise into 1/4 inch pieces.

Dig around in your freezer to find a Parmesan cheese rind that you froze with the intent of using in your next pot of soup.

Ready a can of diced tomatoes.

Combine all ingredients except the chopped ham or turkey with the partially cooked beans.

Simmer, partially covered for another hour or two until beans are soft and vegetables are cooked. The cooking time will depend on the type of beans, their freshness, and your elevation.

Adjust seasoning as needed while cooking.

Add the chopped ham or smoked turkey during the last 10 minutes of cooking.

Serve with grated Parmesan cheese, if you wish.
As good as this soup is when it is made, I prefer to let it cool then refrigerate it for at least a day before rewarming and serving.
To make the broth, substitute a ham bone or smoked turkey carcass (or other smoked meat) for the roasted turkey in my recipe for Roasted Turkey Broth.
Copyright © 2017 by VillaSentieri.com. All rights reserved.