September 13, 2017
With one set of grandparents and many relatives hailing from Southern Italy, hot peppers and foods containing hot peppers were staple features of the cuisine I grew up eating.
Hot sausage, with fennel seed, was frequently on our table and, since it was often homemade by Uncle Joe Medile, it could be as hot as we wanted. When it wasn't Uncle Joe's sausage, it would typically have been from Lopresti's Market in Geistown, a suburb of Johnstown, PA.
Spicy foods more often showed up at lunch, though. There was spicy salumi, including Calabrese salami, capocollo (of which there are several types but in our house it was always the spicy one), and sopressata, among others.
There were hot banana peppers fried until tender, usually with onions. The fried peppers could be a condiment or they could be used as the filling for a sandwich. Fried hot pepper sandwiches are still one of my favorite lunchtime treats!
There were various pickled, spicy vegetables like giardineria and pickled peppers of various types. These were usually store-bought except for my cousin Angie's pickled hot peppers.
Angie is the daughter of my mother's oldest sister. Angie, however, was born six months before my mother. It's kind of interesting to think about the fact that my grandmother was pregnant with my mother at the same time that my grandmother's daughter was pregnant with Angie.
Despite their inverted ages, Angie always called my mother Aunt Theresa.
Angie's mom, my Aunt Rosie, died at a young age. I never knew her. Aunt Rosie's husband, Uncle Dominic lived with their other daughter, Marie.
Uncle Dominic grew vegetables, including hot peppers, in the back yard. He's the one who taught me about fried hot pepper sandwiches for which I am eternally grateful!
Usually I would make Angie's Pickled Hot Peppers with Italian Banana Peppers but fresh New Mexico Green Chile is far more abundant in Santa Fe than Banana Peppers and the substitution works just fine. Years past, when we lived in Chicago and grew lots of peppers, I would even make these with jalapeno peppers.
These peppers are a breeze to make, just some slicing and dicing and pulling together a quick pickle. No actual canning or processing is required. They will keep for months and months in the refrigerator.
The recipe calls for a peck of peppers. A peck is an interesting measure. It is eight dry quarts. A dry quart, however, is not the same as a liquid quart (unless you use the British Imperial system in which case a dry quart and a liquid quart are the same volume but not the same volume as any quart used in America).
Confused? Oh how I wish we used the metric system!!!
A dry quart is slightly larger than a liquid quart. Eight dry quarts equals 9 1/3 liquid quarts. If you go to a farmers market, chances are you've seen produce displayed in baskets that are one peck in size. Not to worry, though. First off, the measurements aren't that critical for this recipe, so plus or minus a quart (dry or liquid) isn't a big deal. Second, if you have any type of large container, pot, or bucket marked in liquid measure, just fill it up a little beyond the 9 (liquid) quart mark and you'll be good to go.
If you're buying peppers in the supermarket and don't want to carry a bucket to measure a peck, I suggest buying approximately four pounds of banana peppers. I found that amount of New Mexico Green Chile came very close to a peck when I measured it out.
---
Follow us
---
Click HERE to join our mailing list and you'll never miss a recipe again!

Though usually made with hot Italian Banana Peppers, I made this batch with hot New Mexico Green Chile which is far easier to source in Santa Fe than are large quantities of Banana Peppers. Four pounds of peppers should come pretty close to a peck. A peck is 8 dry quarts which is the equivalent of 9 1/3 liquid quarts. If there isn't enough pickling liquid to fully submerge the peppers, make a little extra following the proportions in the recipe. These peppers will keep well in the refrigerator for many months. Try to let them mellow at least a couple of days before eating them…if you can!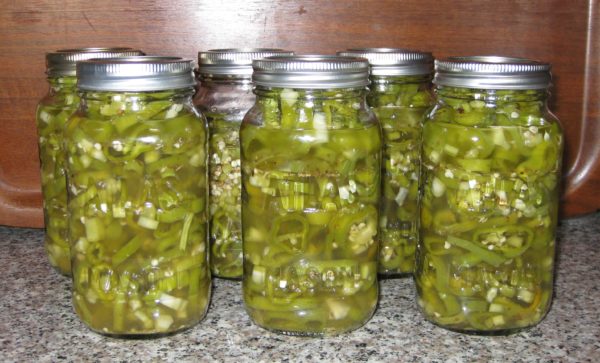 | | |
| --- | --- |
| | |
Wash and dry the peppers.

Cut the peppers crosswise into rings a little more than 1/8 inch thick.

Cut the celery into ¼ inch dice.

In a non-reactive container large enough to hold all the ingredients, combine the vinegar, water, oil, garlic, salt, and oregano. Mix well.

Add the sliced peppers and diced celery.

Mix thoroughly. Cover and allow to sit at room temperature for 8 hours or overnight.

Using a slotted spoon, ladle the peppers and celery into clean jars.

Once the jars are filled, ladle the pickling liquid into the jars. Mix the liquid well with each ladleful so that you get the right proportions of vinegar/water and oil.

If there is not quite enough liquid to cover the peppers make a small amount more using the same proportions.

Cover and refrigerate until ready to use.
Copyright © 2017 by VillaSentieri.com. All rights reserved.